Fellow Foxes,

A brief note of correspondence to update the family. The flag will be moving to Kuwait in a couple weeks to take on the mission of Special Purpose Marine Air Ground Task Force, Crisis Response, Central Command (SPMAGTF-CR-CC 19.2) in support of Operation INHERENT RESOLVE. From there we will leap frog aircraft north throughout Iraq and Syria as tasking dictates. We are well prepared and ready to execute.
The Marines have performed tremendously over the past several months and I would like to highlight a few stand out performances for you:
September 2018: Maintenance Department Scores a 97.8% (#1 of any Type/Model/Series Aircraft in 3d MAW) on the ALMAT Inspection.
December 2018: Maintenance Department Scores a 98.2% (Top Ten of all Navy and all Marine Corps Squadrons of an Type/Model/Series Aircraft) on the CNAF Inspection.
January-February 2019: Squadron performs superbly by supporting the Marine Corps' Integrated Training Exercise (ITX) for 5 weeks at 29 Palms.
For Fiscal Year 2019, October to present, The Purple Foxes are #1 in Aircraft Readiness and #1 in most Flight Hours of any V-22 squadron not currently deployed. Of the 8 squadrons that are currently deployed at various places around the globe, only one of those squadrons is producing more flight hours and readiness than VMM-364 and they are FAD II status for parts while the Foxes remain FAD III until we take over the mission forward.
Four Meritorious Promotions for our Marines that have been won at the Wing level in the last four months.
The Marines are humble and hungry to make you all proud and add to the legacy you have built for us.
We'll be back in late October and look forward to hosting some of you if you are in the San Diego area during the holidays. Feel free to stop on by at any time to the Fox Den. The coffee pot is on the stove and we'll leave the light on for you.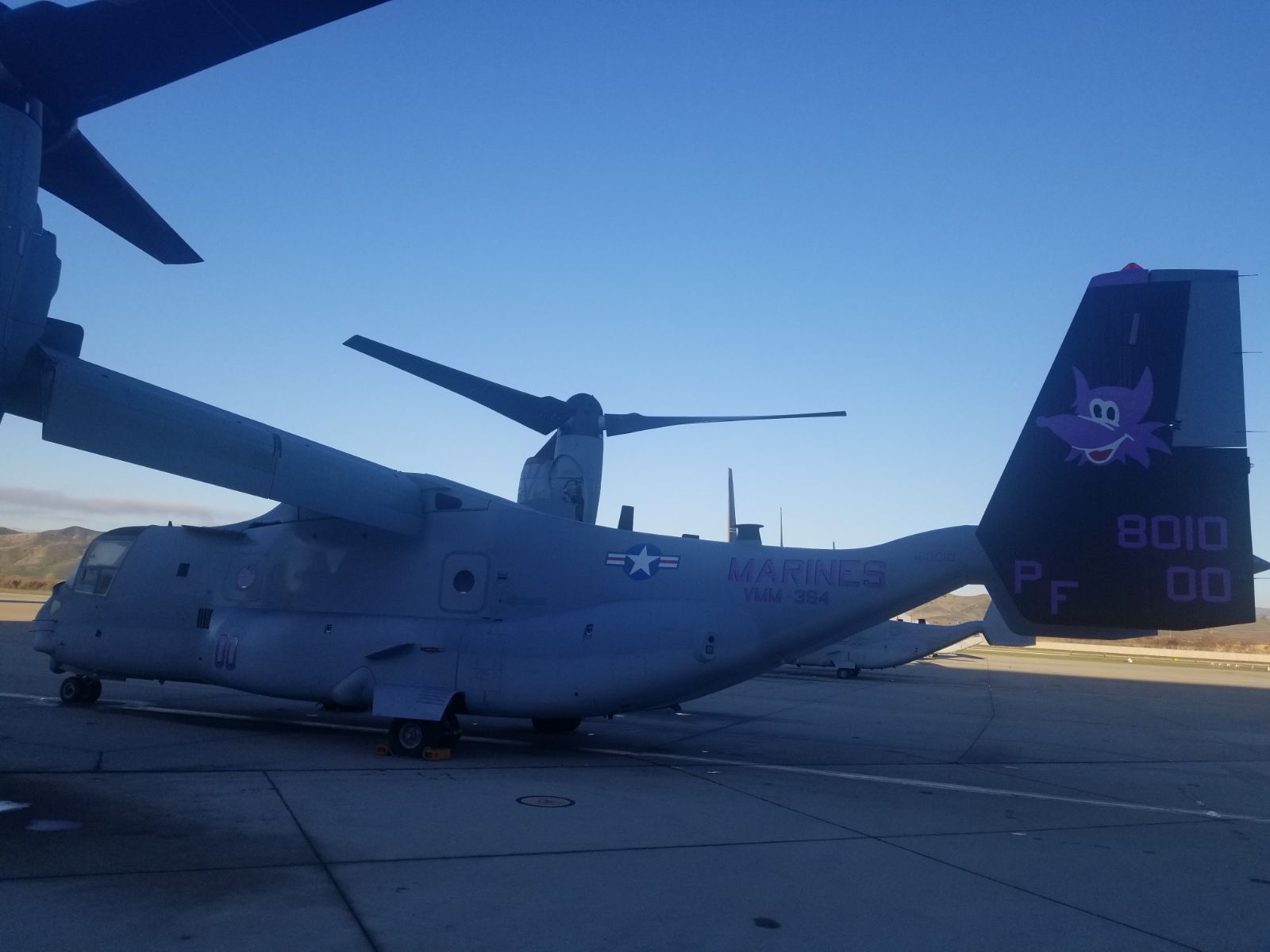 Semper Fi & Give A Shit!
-Sticks

LtCol Bill "Sticks" Walker USMC
Commanding Officer VMM-364
The World Famous Purple Foxes
(email address and phone omitted)
"G.A.S.!"