Night MEDEVAC Crashes Into Ba` Na` Mountain
1stLt. Meyer, John Franklin
1stLt. Sterling, David Walter
PFC. Peddy, Charles Lee
LCpl. Hannibal, James Edward
LCpl. Schickel, Michael Joseph
LCpl. Dolan, David Patrick
HN Lubin, Richard Marc
(Pilot)
(Co-Pilot)
(Crew Chief)
(Gunner)
(Gunner)
(Gunner)
(Corpsman)
(Photo)
x
---
Information from Cpl. Dean A. Reiner, USMC (Vet)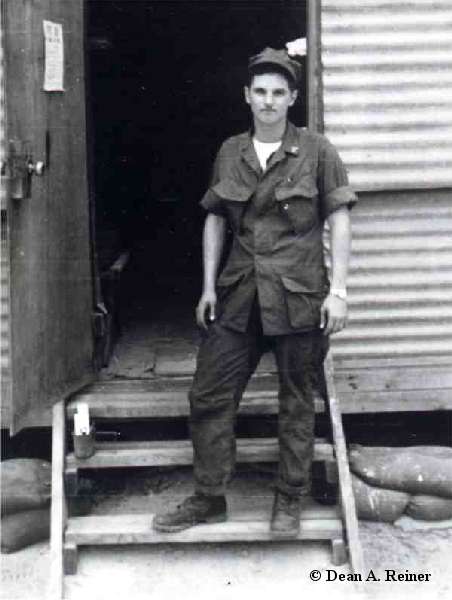 I, Cpl. Dean A. Reiner, was originally scheduled as the Crew Chief for the night standby on Lt. Meyer's aircraft. We had been in the standby condition all evening and into the early morning hours without launching. I was under the weather and had gone to the head to relieve a gastronomic condition when PFC. Peddy ran in to tell me the mission was launching for a medical evacuation in the area of Charlie Ridge. PFC. Peddy, realizing that I was in no condition to fly, volunteered to take my place. About an hour later I learned that Peddy's aircraft was down.
Another section of CH-46s was organized to locate and attempt to find survivors of the crashed aircraft which I signed on as a crew member. I don't recall having any additional information other than the aircraft was down but, I do remember it was a very dark night. We knew the general area of the crash site and after about an hour after launch we spotted what looked like the site with a fire still burning. It was almost dawn and we continued to circle the area for a few more minutes so we could see the site and the hazardous steep slopes of Ba` Na` Mountain. There was absolutely no suitable spot to land on the side of the mountain. It was determined that the only way we could see if their were any survivors was for me to go down on the external hoist to inspect the area.
I remember being on the ground for ½ an hour looking around. It looked to me that the aircraft had flown straight into the side of the mountain. The area was very steep and the soil under foot was very loose and proved very difficult to stand and move around. The aircraft had completely burned, the only recognizable part was the tail section. I dug around for a bit and discovered Peddy's body, buried just below the surface of the ground. The only way I determined it was Peddy was by his gold rim glasses melted to his head. I could not locate any other bodies as I believed they were under the dirt that came down the mountain as a result of the crash and covered most of the wreckage. I believe Peddy was thrown out of the crew chief's door upon impact. Finding no survivors, I was hauled back up to the aircraft and we returned to Marble Mountain to assemble the recovery crew.
Upon arriving back at the crash site the two aircraft lowered the recovery team and their equipment into the site. It took quite a while for the team to dig out the rest of the crew and I vividly recall recovering Peddy's body. Upon raising his body bag I noticed that a bone had cut through the bag and it was ripping open. I threw a strap around his neck to keep him from falling out as I guided him into the aircraft.
I do want to mention that Peddy was my bunkmate and that he had a watch that I have kept all this time. It still is in working order and I would like to give it to his family. If they contact you ask them for their address and I will send it to them. If not I will leave it at the Wall when I make my pilgrimage. The memories of this incident are still painful.

---
Information from Sgt. Richard "Big Rich" Kiselewsky, USMC (Vet): SGT
As I recall, Peddy had approximately 30 days left in-country. (Editor's comment tour date of 1-29-68; Casualty date of 1-26-69) His crew position was Crew Chief of the aircraft at the time. Aircraft was launched on a night medevac to retrieve an injured ARVN. Aircraft crashed into the side of a mountain, resulting in the death of all aboard. Chase aircraft piloted by unknown individual, lowered Cpl. Knox on a jungle penatrator to determine if there were any survivors. As I recall, Cpl. Knox was unable to be retrieved due to the hoist malfunctioning. He was carried externally, hanging from the end of the cable, to a Marine Fire Support Base where he was subsequently lowered to the ground, through a mess tent. Cpl. Knox received a Bronze Star for his efforts.
The night of Peddy's death I took a picture of him working on his airplane and I still have it. I remember him as a great guy and a good Marine.
/s/Richard Kiselewsky

---
Information received from Wayne Stafford, USMC (Vet):
I had known James "Jiminy Cricket" Hannibal sine 1966. The picture I have attached was taken during the spring of 1967 at NAS Jacksonville, A School. I had never seen fear in his eyes until we met again at Phu Bai during September 1968. He said he didn't want to get involved beyond doing his job in the "Rotunda" (H&MS-36 Avionics Repair Facility). He just wanted to get home. A short time after my discussion with Jim about his not wanting to get involved in the flying end of the business he had reconsidered his role. Jim was never one to sit on the sidelines when anything of interest was going on. He was one of those bigger than life characters you considered a friend one minute and then wanted to punch his lights out the next. Life in the "Rotunda" fixing the black boxes for the helicopters was not his idea of an existence so he applied for a transfer to the H&MS-36 flight line. HMM-363 personnel and aircraft had joined us so our combat roll had expanded. Unfortunately, there were no slots available with all the extra people coming over. Jim's next move was to request a transfer to another squadron which turned out to be HMM-364 and you know the rest of the story. We got the word when Cpl. Knox came back to his old hootch to tell us. I think about Jimmy almost every day.
/s/Wayne Stafford
H&MS-36/HMM-265

---
Information received LCpl. Norman E. "Stormin" Dare, USMC (Vet):
PFC Peddy was due to go home the very next day. He volunteered to take the two new guys and show them the ropes. I typed up the letter to his parents and the message to CMC.

---
Information received from 1stLt. Robert W. Estrup, USMCR (Vet)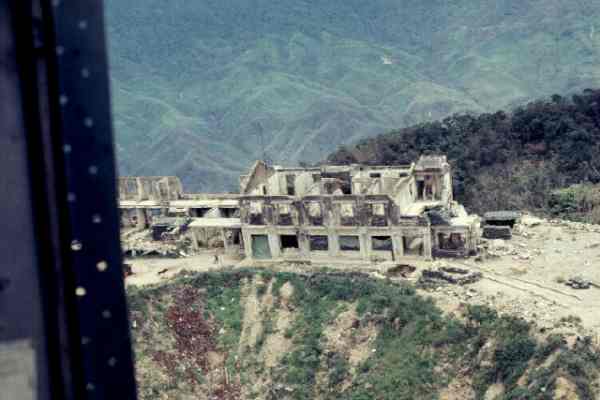 This accident disturbed me a lot, when it happened. I knew both pilots and thought they were both as skilled, if not better skilled, than most. I recall that they were called out to retrieve a medevac located on Charlie Ridge at around 3-3:30 AM. But they crashed into Ba` Na`, the 6,000 ft. mountain where the French resort ruins were on top. So to this day I do not understand why they crashed into Ba Na' at the 3,000-3,500 ft level. Ba` Na` is basically due west of some well defined land marks we used when flying out of Marble Mountain at night. I wish to describe what I believe may have happened to the flight.
Generally, when we would leave Marble Mountain to work in the Hill 55, Charlie Ridge (eastern end) and An Hoa areas, we would head west and slightly north of Marble Mountain Air Facility, flying low level along the Song Cau Do (river) which ran close to the south approach end of Da Nang air base. We would continue west low level past the bridge of Highway 1 until the second bridge where Highway 541 crossed the Song Cau Do. These bridges were excellent landmarks because they were well lighted in a country that wasn't "total electric." This would take us west of the approach area to Da Nang AB. Then we would climb out to a comfortable altitude tracking south along Highway 541 (a dirt road) where it would eventually join Highway 1 some three clicks to the north and east of Hill 55.
West and south of the Highway 541 bridge, it would get real dark with no landmarks to rely on a night. I had noticed an anomaly or unreliability of the Da Nang Tactical Air Navigation (TACAN) radio when flying anywhere close to the mountains extending to the west, from the north end of Da Nang harbor. The mountains on the north side of "Happy Valley" (Charlie Ridge paralleled along the south side of the "Happy Valley") were also subject to erratic TACAN behavior. This includes the Ba` Na` vicinity. I think I griped several TACAN problems on the "yellow sheets" indicating a 40 to 45 degree northward error before I gave up and blamed the problems on geography. But I also vowed that I would never rely on the Da Nang TACAN if I had any other way to navigate.
I think John and Dave set a course to intercept a specific Da Nang TACAN radial which they would then track outbound to the location of their Medevac, or some other check point from which they could fly to the Medevac site. Unfortunately, the TACAN was probably at least 45 degrees off, maybe more close to Ba` Na`. My recollection is that they flew straight into the mountain at around 3,000 feet. This does not suggest a mechanical problem problem with the aircraft but rather and electronic problem with the Da Nang TACAN. They were flying at an altitude that would give them sufficient clearance from every obstacle except Ba` Na`. I believe that they didn't think they were anywhere close to Ba` Na`. The combination of pitch black and haze at 3:00 AM probably kept them from having any chance to see the danger they were in. Six brave Marines and 1 brave Navy Corpsman who I still miss and think of after 32 years.
I do remember waking up the morning after they crashed and feeling a great sense of loss. Both were fine men and I get sad thinking how their families have missed them. The morning was cool and hazy, with high cirrus clouds streaking across the sky in shades of pink. There was a haze covering the mountains.
I recall that the chase plane was piloted by 1stLt. Don Robbins, I think he could shed some light on this accident if he could be located.

---
Information received from LtCol. Larry W. "Slick" Britton, USMC (Ret)
I was the Squadron Safety Officer at the time of the crash. Due to the chase plane report that the first thing they saw was an explosion (apparently as the airplane hit the mountain) I too wondered about the TACAN. Like Bob Estrup, I had experienced 40 degree lock-offs from Da Nang before. I ran an azimuth on a map of the intended course & then ran one that would result if there was a 40 degree lock-off. The lock-off azimuth intersected Ba Na mountain at the exact spot where John and Dave crashed. I am convinced that the TACAN error was the primary cause of their crash.

---
Information received from LT. Les LeFevre, (DC) USN (Vet):
I served as dental officer with Richard Marc "Rick" Lubin at MAG-36 and MAG-16 until I rotated home 681712. There wasn't a finer corpsman out there. In fact all the guys that flew were the bravest guys I ever knew. I never saw one try to get out of a mission. Rick lived next door to Joey Bishop in Hollywood and we gave him a lot of crap about it. There is hardly a day that goes by I don't think of him. I should have contacted his family right after I heard, and have regretted it ever since. Sorry Rick, but we haven't forgotten.

---
Information received from Jerry E. Meyer, brother of 1stLt. John Franklin Meyer:
Here are the words from John Franklin Meyer's letter written on December 26, exactly one month before he actually plowed into the mountain.

26 December 1968
The 23rd of Dec. could well have been something to remember in the family for many Christmases to come. If you remember me telling you of Joe Powell & Jim Sweet plowing into a mt. at Quang Tri, the same thing almost happened to old John Franklin and his crew.
I was in a hover in a zone up in the mts. southwest of Danang and the clouds rolled in and the zone when IFR before I could get rid of my load and get out. I pulled some tricks out of my _ _ _ and when we broke out of the clouds I was at 110K and 200 ft. heading for the trees and a mt. range. I scared the hell out of myself and my crew and don't mind saying so. I guess if I didn't have the luck of the Irish I would be on my way home in a body bag if they could have found and identified the bodies. They can put rounds through my cockpit. They can shoot my co-pilot or crew. They can shoot out one engine or some of my systems. This they have done, but it never really bothered me. The encounter the 23rd shook me up for a few hours.
It would make John Franklin happy to someday see all the members of his crew on the screen. I appreciate the many hours you must put into the page. I have always been proud of my brother, John, and I think he would approve of how I turned out. Good family, good job, good health. Sorry he missed it all.
Jerry E. Meyer
When the Foxes all bought bricks at the Marine Corps Heritage Museum, I bought one for John. I have the certificate of authensity and it would be great if someone in his family could get it.
Ken Wade

---
LCpl. Curtis P. Knox's Bronze Star Medal citation may be viewed here.
---
Received February 2, 2003 from Mike Sledz, former _________ USMC
January of 1968 I got orders from New River to Vietnam and of course I ended up at Camp Pendleton and three weeks of Staging Battalion, that is where I met Mike Schickel. We hit it off from the start and hung out together during those three weeks. We shipped out together to Okinawa and on to DaNang for assignments. I headed to Phu Bia and HMM-165, Mike was assigned to HMM-364. I lost contact with Mike for many months, through the grapevine I learned about the crash and Mike's death.
We all cross paths with so many people during out life time. Some leave lasting thoughts, Mike Schickel was one such individual for me.
The first image which follows was taken at Staging Battalion with Mike being the second Marine from the left. The second is the notice I found in the 'Stars and Stripes' and have retained all these years.


---
Comments Received from 1stLt. Kenneth R. Wade, USMC (Vet), on October 5, 2005
I have today reread the narratives from everyone who has commented up to this date on the combat loss of 1-26-69 involving a flight where I was co-pilot (H2P) of the wing CH-46 following 1st Lt John Meyer & 1st Lt Dave Sterling & crew and wanted to file my comments, if appropriate, for the web site. It would be good to hear from 1st Lt Don Robbins on this. He was the aircraft commander on the wing of the lead A/C.
On the evening of 1-25-69 1st Lt Meyer briefed the crews as section leader. He had superior experience and had, as I recall, several night missions under his belt. There was no mention in the brief of the Da Nang TACAN problem as described by 1Lt Estrup in his narrative. The squadron had only recently located to Da Nang from Phu Bai, and it was my first night med-evac assignment. I do not recall that the TACAN problem was a "discovered or discussed" issue at this time. Meyer told us he would lead and would fly lights "on", meaning his rotating beacons would be left "on" during the flight. We, the wing aircraft (A/C), were to fly lights "out" and stay about 1 mile behind so as not to be hit in error by potential enemy fire aimed at the lead. The lead A/C would be the only light in the sky as it was to be an overcast winter sky. Our job was to be his back-up and to not fly into the only lights in the sky. He would make the first pick-up and we would assist as needed.
Just at dusk we had a notice that there was an ARVN routine med-evac on or near Charlie Ridge. Protocol called for routine ARVN med-evacs to be picked up in daylight when it was safer to fly. Lt Meyer decided to wait since it was almost dark and overcast. By the time we got to the LZ, it would be completely dark.
We performed the pre-flight check of the two CH-46 aircraft before dusk, stored out gear and readied them for flight at a moments notice. We were on stand-by in the ready room until the call came about 0300 1-26-69 that the ARVN had turned into an emergency med-evac at which time we launched according to the orders of his earlier brief.
We took off on the north runway at MMAF, turned west along the Song Cau Do River south of the Da Nang AFB to stay under inbound traffic and turned southwesterly initiating a climb to 3,000 feet altitude after passing the bridges. We chose 3,000 feet so to be beyond the range of small arms fire. Possibly due to the later reported TACAN error we were on a more deadly westerly route than the southwesterly where we should have been. As H2P, I kept a watch on our instruments and for the rotating beacons of the lead A/C, and we trailed about 1 mile behind.
1Lt Meyer made radio contact with the ground unit and asked it they saw their rotating beacon. The ground unit replied affirmatively. Before any directional change could be determined to alter the course to reach the LZ, I observed a ball of fire (the crash) at he exact location where the lead A/C had been a second before. 1Lt Robbins asked, "What was that". I replied that it appeared to be a ball of fire at the place where the lead A/C was. As I said earlier, it was a pitch-black sky with no or very few lights on the ground as it was early morning and completely overcast. It was like flying in Mammoth Cave with the Cave lights out. There was no visual reference in the south & west sky or ground except the rotating beacons and then the fire. We were completely IFR when heading south or west away from the lights of Da Nang.
At this point 1st Lt Don Robbins, aircraft commander, tried to contact the lead by radio. Following several attempts with no response we determined it was the lead A/C that had crashed or been shot down. We began an oval orbit for several minutes to stay a distance from the "object" at the crash site. 1Lt Robbins called for back up support from DASC and advised them of the situation.
We orbited until back up was in the area and were still not able to make radio contact with the lead A/C. We were not certain if it was a crash or enemy action that caused the lead to crash. Regardless, we flew to the crash site and Cpl Curtis Knox volunteered to be lowered by hoist to the site to search for survivors. He hooked up in the horsecollar on the hoist and I activated the hoist switch so he could be lowered through the trees into the jungle on Ba'Na' mountainside with only the light of the fire and our headlight, which we were reluctant to use for long periods so as not to make a target of ourselves. We took no enemy fire.
Shortly we learned that the hoist would not reach the ground. There was some discussion for Cpl Knox to drop off the line to search for survivors. 1Lt Robbins refused that offer due to not being able to retrieve Cpl Knox after the drop and it was hostile territory on Charlie Ridge. Also, it would be futile as no survivors were likely from a crash at 120 knots, the ensuing explosion and continuing intense fire. In addition, Cpl Knox lacked several feet reaching the ground & he could have been injured.
At this time the "up" hoist switch was activated so he could be retrieved into the A/C. The hoist malfunctioned! After several futile attempts to determine the cause of the hoist failure, Lt Robbins hovered straight up out of the position in order to remove Cpl Knox from the trees and proceeded to find a "safe" LZ. Several minutes later we were able to put Cpl Knox on the ground. I do not think we knew exactly where we were at the time…certainly I did not know. When 1Lt Robbins attempted to land to pick up Knox, the A/C went IFR in the ground dust/sand caused by the rotor wash. We tried to land three times, but with no success. 1Lt Robbins then circled nearby to find a "partially paved" road on which to land amongst power poles and electric wires. It was a dangerous but successful night landing. We then returned to base with Cpl Knox, exhausted, but safely on board.
I have been to the Vietnam Memorial Wall a couple of times and to this day have the "rubbed off" names of 1Lt Meyer an 1Lt Sterling on a piece of paper in my USMC shadow box of wings, ribbons, metals, patches, etc. They will always remain as courageous, "young" men in my memory.
Cpl Knox was the hero of the night & had the fright flight of his young life hanging at the bottom of a thin wire in a horse collar over enemy territory for what must have seemed like an "eternity". We were grateful to be able to retrieve him safely.
Last Updated: January 2, 2005
Back Browser or Home
-