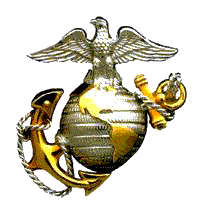 The Secretary of the Navy takes pleasure in presenting the
NAVY COMMENDATION MEDAL to
CORPORAL JAMES V. KING
UNITED STATES MARINE CORPS
for service as set forth in the following
CITATION:
"For heroic achievement while serving with Marine Medium Helicopter Squadron 364, Marine Aircraft Group Sixteen, First Marine Aircraft Wing in connection with combat operations against the enemy in the Republic of Vietnam. On the morning of 14 April 1969, Corporal King was serving as an Aerial Gunner aboard a CH-46 transport heli- copter which had completed the insertion of thirteen Marines and the extraction of nine others from an area seven miles northwest of An Hoa when his aircraft sustained serious battle damage from hostile fire and was forced to land in a rice paddy. Encountering an extremely heavy volume of enemy fire as his disabled helicopter landed, he completely disregarded his own safety as he resolutely remained in his exposed position and boldly delivered covering machine gun fire while the crew and passengers established a defensive perimeter. Undaunted by the intensity of the enemy fire, Corporal King fearlessly manned his weapon and effectively delivered such accurate suppressive fire that a rescue aircraft was able to safely land. After providing covering fire for the Marines to embark on the other CH-46, he then boarded the aircraft and departed the hazardous area. By his courage, bold initiative and unwavering devotion to duty at great personal risk, Corporal King upheld the finest traditions of the Marine Corps and of the United States Naval Service."
The Combat Distinguishing Device is authorized.
FOR THE SECRETARY OF THE NAVY,
/S/ H. W. Buse, Jr.
H. W. BUSE, JR.
LIEUTENANT GENERAL, U.S. MARINE CORPS
COMMANDING GENERAL, FLEET MARINE FORCE, PACIFIC