Marine Corps Air Station, New River Jacksonville, N.C.
Wednesday, June 3, 1970
Story by LCpl. Rob Keifer
Pilot Wins Second DFC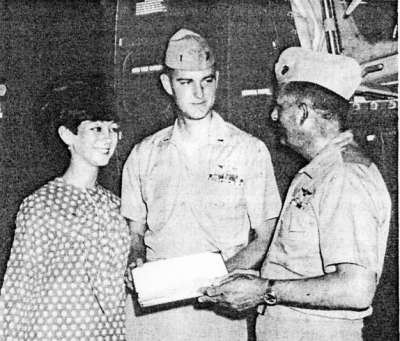 Distinguished Flying Cross Awarded - 1stLt. Larry W. Britton receives his Distinguished Flying Cross from Col. Joseph A. Nelson, (right) commanding officer of MAG-26. The Lieutenant's wife, Tamara, looks on as the presentation was made at Marine Corps Air Station New River, Friday.
1stLt. Larry W. Britton of HMM-264, was awarded a Gold Star in lieu of the second Distinguished Flying Cross, Friday at Marine Corps Air Station New River. Col. Joseph A. Nelson commanding officer of MAG-26, made the presentation.
The award was for the Lieutenant's actions while serving in the Republic of Vietnam with HMM-364 as a pilot.
On the afternoon of September 9, 1969, Lieutenant Britton launched as Aircraft Commander of a CH-46 transport helicopter assigned the mission of inserting one reconnaissance team and extracting another which was in contact with a North Vietnamese Army force in a densely-jungled, mountainous area in Quang Nam Province.
Upon reaching the site, he found that the patrol was unable to reach the pick-up area. Moving to an alternate site, he hovered two feet above the ground until all members of the new patrol were on the ground. He then returned to the beleagured patrol which was located on a heavily wooded hillside.
Lieutenant Britton manuvered to a dangerously exposed position above the 100 foot tall trees and commenced his extraction attempt. But, after only one man was aboard the aircraft, the hoisting cable malfunctioned, forcing movement to a more suitable extraction site.
Only 75 meters from enemy positions, he manuvered skillfully under cover of a smoke screen, and backed into a narrow, confined landing zone surrounded by tall trees. Although under intense enemy fire, he held his position until all members of the team were extracted.
Lieutenant Britton attended high school in Huntington, West Virginia, and then graduated from North Texas State University. He entered the Marine Corps in July 1966, and reported to New River in November of 1969. He is married to Tamara Shivers Britton of Lingview, Texas.