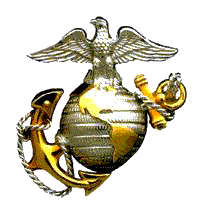 The Secretary of the Navy takes pleasure in presenting the
NAVY COMMENDATION MEDAL to
CORPORAL JOHN W. ALLEN
UNITED STATES MARINE CORPS
for service as set forth in the following
CITATION:
"For heroic achievement while serving with Marine Medium Helicopter Squadron 364, Marine Aircraft Group Sixteen, First Marine Aircraft Wing in connection with combat operations against the enemy in the Republic of Vietnam. On 28 February 1969, Corporal Allen was a member of an aircraft recovery team which was inserted into enemy controlled territory north of An Hoa in Quang Nam Province to salvage a crashed CH-46 transport helicopter. Fully aware that ground units in the area had been in heavy contact with the enemy for several days, Corporal Allen disregarded his own safety as he assisted in removing component parts from the disabled helicopter. Working efficiently and expeditiously despite sporadic enemy small arms fire, Corporal Allen continued his efforts until the aircraft was completely dismantled and the airframe was prepared for extraction. During hoist operations, he deployed into a defensive position and provided effective covering fire. As a result of his diligence, the valuable aircraft and all its compo- nent parts were lifted out of the hazardous area and were moved to a secure landing zone in a minimum amount of time. By his initiative, superb professional skill and steadfast devotion to duty at great person- al risk, Corporal Allen upheld the finest traditions of the Marine Corps and of the United States Naval Service."
The Combat Distinguishing Device is authorized.
FOR THE SECRETARY OF THE NAVY,
/S/ H. W. Buse, Jr.
H. W. BUSE, JR.
LIEUTENANT GENERAL, U.S. MARINE CORPS
COMMANDING GENERAL, FLEET MARINE FORCE, PACIFIC