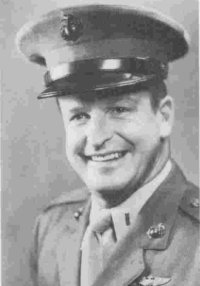 1964
CWO-4 Glen R. "Andy" Anderson USMC(Ret), 79, passed away Friday Jan. 18th 2008 at Palomar Hospital in Escondido.
A funeral Mass will be held at 10:00 a.m. Wed. Jan. 30th, at Immaculate Heart of Mary Catholic Church in Ramona. A graveside service will be held on Feb. 12th at 1:00 pm at the Ft Roscrans National Cemetery in San Diego CA.
Andy was born on Mar. 6th 1928 in Green River WY, the son of Archibald and Melba Anderson.
He graduated from High School where he competed in Football and Track. He held the Wyoming state record in the 220 yd. Low Hurdles for over 20 years and was an All State selection in Football. Andy was recognized for his football prowess and was selected as a participant in the 1952 Hula Bowl football game in Honolulu, Hawaii.
In 1946 Andy joined the US Army and trained as a Paratrooper. He returned to college at the University of Wyoming where he played football. He then joined the Navy and was admitted to the Flight Training program at NAS Pensacola FL as a Naval Aviation Cadet where he won his Gold Wings as a Naval Aviator on Oct. 28th 1953 and was commissioned a 2nd Lieutenant in the US Marine Corps.

He trained as a Jet Pilot and was sent to the Republic of Korea where he flew the FJ-1 Fury Jet Fighter. After his tour in Korea was complete, Andy was ordered to MC Air Station Cherry Point NC where he continued flying jets and was checked out in transport aircraft. In 1956 Andy volunteered for Operation Deep Freeze and was sent to New Zealand where he flew the R4D transport from Christ Church NZ. to Antarctica in support of the US Navy mission there.
When he returned to the 2nd Marine Air Wing in NC, Andy transition to helicopters and would continue to fly them for the remainder of his 27 year career. In 1961 he was transferred to MCAS Tustin CA and joined HMM-364, flying the UH-34D helicopter. In April of 1962 the Squadron deployed aboard the Aircraft Carrier USS Iwo Jima in support the Upper Atmosphere Nuclear Test Series, named Operation Dominic II, at Johnson Island, west of the Hawaiian Islands. In Aug. 1962, during a break in the test series, Andy was reassigned to HMM-361 and was deployed aboard the USS Boxer to support an effort known as the Cuban Crisis.
Rejoining HMM-364 Andy prepared to be among the early group of helicopter pilots to support the Republic of Viet Nam. The Squadron arrived in Viet Nam in Jan. 1964. Andy flew combat missions and trained South Vietnamese helicopter pilots in the UH-34 aircraft.
Andy flew over 520 Combat missions during his Military career and proudly wore the Air Medal (Strike Flight Awards) with numerals 26 and two Single Mission Air Medals signified by two Gold Stars. He was authorized to wear the Presidential Unit Citation, the Navy Unit Commendation, the Meritorious Unit Commendation, the Vietnamese Cross of Gallantry (with Palm), the Vietnamese Service medal with six campaign stars as well as other campaign and service medals.
He was reassigned to MCAS Camp Pendleton at the completion of his 13 month tour and transitioned to the UH-1 helicopter. Andy returned to Vietnam in 1968 and flew support missions from Hue Phu Bai in support of the Special Operations Group (SOG) with HML-367 as well as support of the Ist and 3rd Marine Divisions.
Returning to Camp Pendleton CA, Andy helped train countless young Marine Aviators using his thousands of flight hours of experience to assist them in becoming more accomplished in their profession.
CWO-4 Anderson retired on Dec 31st 1977.
Besides his wife, Doris, Andy is survived by her 3 children and by 3 stepchildren from a previous marriage, 8 grand children and three sisters. He was preceded in death by his son Noel.
In lieu of flowers the family requests that any donations be made to the Injured Marine Semper Fi Fund.
Advise to send notification of contribution in lieu of flowers to:
Mrs. Glen Anderson (Doris)
16656 Rockin Oaks
Ramona CA 92065