On 29 June 2007, LtCol Mark Schrecker assumed command of the Foxes as the squadron prepared for its next deployment to Iraq. In July the squadron conducted its Aviation Logistics Maintenance (ALMAT) inspection while concurrently conducting NSI evaluations with MAWTS-1 support. A detachment of aircraft departed for MWTC Bridgeport for a four-day mission including paraops and Special Insertion and Extraction (SPIE) in August. Another detachment supported a static display for the Purple Fox reunion in Mesquite, Nevada in late September.
The squadron deployed to Yuma, Arizona in December 2007 for a Detachment for Training prior to participating in Desert Talon 1-08 as a final preparation for the squadron's return to Al Taqaddum, Iraq. The squadron's main body departed Camp Pendleton on 10 March 2008 and arrived at Al Taqaddum, Iraq shortly after in support of OIF 08.1.

The Commanding Officer
Marine Medium Helicopter Squadron 364
requests the pleasure of your company
at the
Change of Command Ceremony
in which
Lieutenant Colonel Sean C. Killeen, USMC
will relinquish command to
Lieutenant Colonel Mark G. Schrecker, USMC
on Friday, the 29th of June 2007
10:00 A.M. at the Foxes Hangar, Building 23170
Marine Corps Air Station, Camp Pendleton

R.S.V.P. 760-763-1450
e-mail: mathew.stulz@usmc.mil
Military: Desert MarPat Uniform
Civilian: Civilian Informal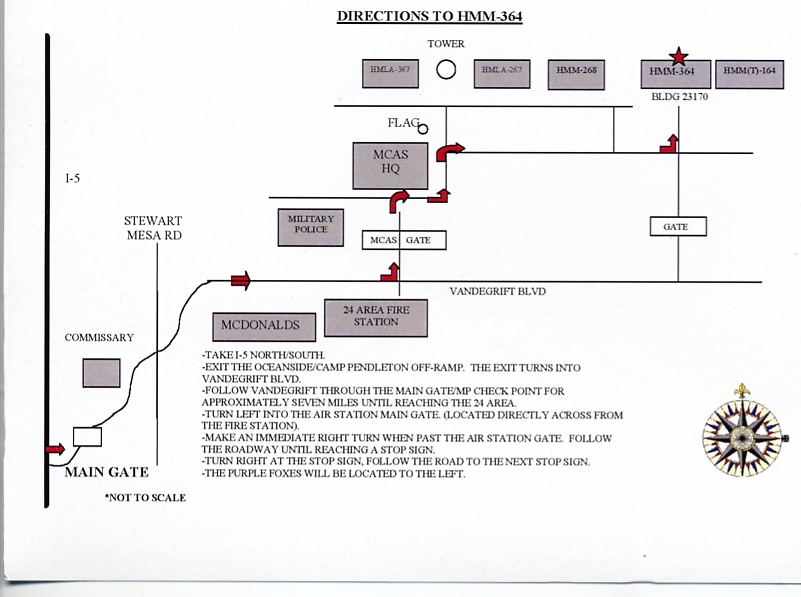 Back Browser
.