Corporal Thomas E. Saba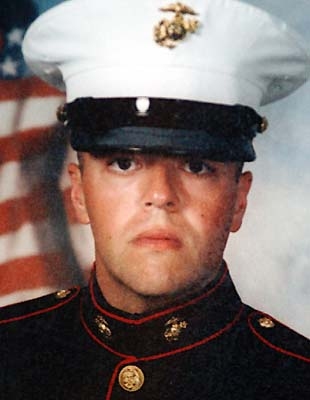 Saba, a 1994 graduate of Susan Wagner High School, moved with his family to Toms River in the late 1990s. He made a five-year commitment to the Marine Corps shortly after 9/11, enlisting on April, 21, 2002. For most of that time, he was assigned to the Marine Medium Helicopter Squadron 262, The Flying Tigers, in Okinawa, Japan.
When Marine Cpl. Thomas Saba, 30, learned last month that his unit had been called for Iraq duty, the former Grymes Hill resident chose to forgo his discharge in April and extend his tour as a helicopter crew member until September. The January deployment to Iraq was the first combat deployment of the squadron since the Vietnam war.
Yesterday, Saba's family mourned the loss of their hero son. "He was due to come home," said his mother, Barbara, through tears, as she and her husband, Tony Saba, waited yesterday to fly back from vacation in Florida to their Toms River, N.J., home. "He didn't have to go to Iraq. He chose to go. He wanted to be with his brothers."
Tony and Barbara Saba, who are retired, rented a home in Vero Beach, Fla. for the month of February. They were in a movie theater in Vero Beach when they got a phone call with the grim news.
"We had been aware that a helicopter went down," Mrs. Saba said. "We were just hoping it wasn't him."
They last spoke with their son on Saturday, when he called to check on them after tornadoes ravaged central Florida on Feb. 2, killing 20 people. He had been in Toms River, on leave, during Christmas.
Mrs. Saba described her son as a "very, very loyal American" who decided he would give anything for his country after the 2001 terrorist attacks.
"He was very, very patriotic," she said. "He was a Marine through and through. He didn't want to hear any criticisms of (President) Bush."
Whenever asked about the war, he would emphasize the need to defend America, said his father.
"He said, 'What do you think I went in for?'" Tony Saba said.
Sonja Debs of West Brighton, Saba's aunt and godmother, said she cried through the night after learning Thomas' fate at 5:20 p.m. Wednesday.
"It hurts," she said, clutching a framed picture of Thomas in his uniform. "We used to enjoy going to Applebee's to have a meal together" whenever Thomas was on leave. The 82-year-old said she frequently sent him e-mails, most recently on Saturday: "We're a very close-knit family."
The wife of World War II Army veteran Victor Debs, who died in 2004, Mrs. Debs said she tried, and failed, to dissuade her nephew from going to Iraq.
"It was something he wanted to do. He said, 'Do you want 9/11 to happen again? I'm going to fight for my country,'" Mrs. Debs said, adding that she's praying for the families of the other six troops. "There is a God and we cannot choose what is deemed for us. You don't know how much I'm going to miss him."
Besides his parents, Saba is survived by his brother, Anthony, and his two sisters, Mary Ellen Ditchkus and Laura Saba.
Mrs. Saba said she expects her son's body will be flown to New York sometime next week. After a service at St. Teresa's R.C. Church in Castleton Corners, Saba will be buried either in Moravian Cemetery or Arlington Cemetery, she said.
Cpl.. Saba's squadron, HMM-262, is relieving the Purple Foxes of HMM-364. Cpl. Saba was flying this mission to become acquainted with the aircraft that would be turned over to him and to become familiar with the environment he would be operating in.