Hospitalman Manuel A. Ruiz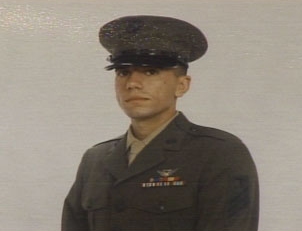 (Seen here wearing the uniform of those he supported)
It's the phone call military parents don't ever want to get, the call saying their son or daughter has been killed in the line of duty. Last night, a Federalsburg family got that call. Today, they are full of sorrow, but also full of pride as they remember Manuel Ruiz.
Corpsman Ruiz was killed, along with another Navy medical corpsman and six Marines, when the transport helicopter they were aboard crashed in Iraq, his family said yesterday.
In Ruiz's hometown of Federalsburg, a farm community of 2,600, friends and neighbors tied red, white and blue ribbons to lampposts yesterday, and officials made plans to lower flags in his honor. But the gestures seemed inadequate. The family has lived in Federalsburg since 1994, when Mrs. Ruiz retired from the Navy.
"He volunteered for this second tour in Iraq," said Corpsman Ruiz's mother, who wore a "Navy Mom" sweat shirt yesterday. "He always wanted helicopter duty instead of working in a hospital. I guess he wanted to be where the action was, and we're sure he saved as many as he could." He was two weeks into his second deployment.
In a small town where young people often seek the military life as a way to broaden their horizons, Ruiz also stood out as a talented and sensitive artist, said Marjorie Scott, who was Ruiz's art teacher during his four years at Colonel Richardson High School. When he was back from his first tour, Ruiz visited the school in his Navy uniform. "Any time he talked about the military, his eyes glistened," she said. She said she had worried about him, but he assured her that he was fulfilling his calling. "There are just some kids you'll always remember, no matter where they go or what they do, how their lives go - Manny was one of those," Ms. Scott said.
Corpsman Ruiz's siblings said their brother was eager to pursue a Navy career when he graduated from high school three years ago. Like many small-town boys, he wanted to see the world.
"He was the best brother ever," Jacob Ruiz said yesterday, showing off the NFL replica jersey and hat that had arrived Wednesday in a package from the corpsman. "We talked a lot on the Internet. He told me never to quit playing football, to never give up."
He never played organized sports after a few years of baseball as a youngster, but he loved distance running on his own. Corpsman Ruiz was a talented artist, and the family has many paintings and drawings.
"Our hearts are broken," said Connie Blanchard, who works in the town hall accounting office. "He was a very brave and courageous guy."
"Ruiz had a talent for dancing," said Adam Lusk another family friend, "Michael Jackson-like, he did it to make people laugh, but he was also very good at it."
A member of the Second Medical Battalion based out of Marine Corps Base, Camp Lejeune, N.C., Ruiz had won several medals including the Humanitarian Service Medal, his mother said.