Sea Tiger
A Weekly Newspaper Published by:
III Marine Amphibious Force, Vietnam
August 1970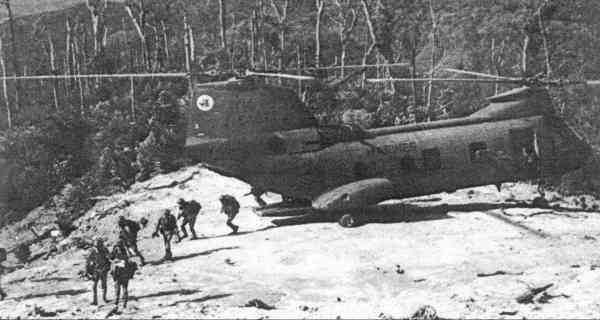 MISSION COMPLETED - A HMM-364 CH-46 Sea Knight sits in a zone as soldiers of the Republic of Vietnam run off to assume defensive positions around the LZ. The ARVNs were airlifted in as a prelude to the start of a large operation 30 miles southwest of Da Nang.
(Official U.S. Marine Corps Photo by Cpl. Doug Woods)
---
Pilot Wins Feinberg Award
Washington, D.C. - A highly decorated Marine Corps pilot, winner of two Navy Crosses, was presented the 1970 Frederick L. Feinberg Award.
First Lieutenant Joseph P. Donovan was presented the award by General Lewis W. Walt, Assistant Commandant of the Marine Corps, in his office July 24.
The Feinberg award, initiated by the Kaman Aircraft Corporation is awarded annually by the American Helicopter Society to a helicopter pilot for outstanding achievement in rescue, flight and test development of new aircraft or general high level of performance in operational flying during the preceding year.
Lieutenant Donovan, who entered the Marine Corps June 5, 1966, was honored for "courage, superior airman ship and unwavering devotion to duty in the face of great personal danger."
On Feb. 22, 1969, while serving as a pilot with HMM-364 here, he launched as a wingman in a flight of two transport helicopters assigned to emergency medical evacuation of a seriously wounded Marine. When the section leader's aircraft experienced mechanical difficulties and returned to base, Lieutenant Donovan continued the mission.
Approaching the area, he dispatched his gun ships to destroy a hostile rocket launching site. Upon landing to embark the casualty, he was wounded by fragments from hostile grenades and mortar rounds which also severely damaged his helicopter and caused it to vibrate violently.
Nonetheless, he maneuvered it to the nearest medical facility and after receiving medical attention, launched a second emergency medical evacuation mission. Again entering an extremely hazardous area, without gun ship support, he picked up the wounded men.
He then embarked upon a third mission and brought 10 more wounded men to safety.
Lieutenant Donovan, stationed with the 3rd MAW at El Toro, California, earned during his short time in the Marine Corps, two Navy Cross Medals, a Silver Star Medal, two Distinguished Flying Cross Medals and 35 Strike/Flight Air Medals.
The 28-year-old lieutenant, who graduated from the University of Dallas in 1966, is married to the former Eileen (Donovan?) of Chicago, Illinois. He is the son of Mrs. Joseph B. Donovan of 405 West Marvin, Waxahachie, Texas.

---
Chopper Rescues Marines
By SSgt. Mike La Bonne
Da Nang - A helicopter pilot braved concentrated enemy fire recently to extract three wounded Marines 20 miles southwest of Da Nang.
First Lieutenant Bruce E. Jensen (Spokane Wash.), was flying medevac missions as a pilot with HMM-364, Marble Mountain Air Facility.
Marine infantrymen in contact with the enemy had suffered three casualties and requested an emergency medevac. After gun ships prepped the unsecure zone, Lt. Jensen entered the zone only to be forced out by heavy enemy fire. He circled on station while the gun ships prepped an adjacent tree line. Returning to the zone, Lt. Jensen again took fire. This time he remained in the zone while his gunners and the gun ships worked over the surrounding area.
With the medevacs safely aboard, Lt. Jensen lifted from the fire swept zone and delivered the wounded to a nearby medical facility.

---
2/1 Marines Led To VC Headquarters
By Cpl. Ed Burriss
Da Nang - The information one Vietnamese woman passed on to the 2nd B., 1st Marines, sealed the fate of a dozen upper echelon communists including a Viet Cong lieutenant colonel an his staff.
A specially selected and reinforced platoon from Co. G, 2nd Bn., 1st Mar. Div., was heli-lifted into the northeast sector of Dien Ban District, to the very threshold of the Viet Cong Headquarters Complex. District 3, 12 miles south-southeast of Da Nang.
It was nearly two weeks before intelligence had pinpointed the VC headquarters, discovered their escape routes, planned for VC defenses, and cleared their move through the Division operations section. The security veil was lifted only one hour before the assault was scheduled to take place when battalion intelligence and operations officers briefed Marines on their assigned missions.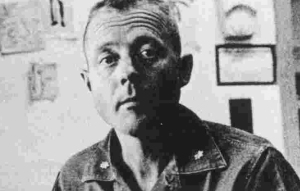 The heli-borne assault troops, aboard four CH-46s from HMM-364, Marble Mountain Air Facility, and led by Major Duane Jensen and his copilot 1stLt. Pat Kenny, arched eastward in a feint over the South China Sea before banking inland and dropping directly into the headquarters site without the benefit of preparatory fire from helicopter gun ships.
Once inserted, Marines jumped off the assault helicopters and fanned out over the area to flush the communists from concealed tunnels and camouflaged fighting holes. Resistance was brief, sardonic and weak at best. One Sea Knight helicopter (CH-46) was hit by small arms fire.
In 25 minutes of hectic fighting "Golf" Company Marines had all but wiped out the Viet Cong headquarters staff, two of whom preferred suicide to capture.
Included among the dead was the Viet Cong District Commander, a lieutenant colonel, his executive officer, at least two high ranking North Vietnamese advisors and eight other communists. In less than three hours "Golf" Co. Marines had dealt the local VC infrastructure a demoralizing setback with immeasurable long term after effects.
"The results were beyond my fondest hopes." said Colonel W. G. Leftwich, Jr., commanding officer, 2nd Bn. 1st Marines. "we've played cat and mouse with them for a long time. We've had several unsuccessful efforts to kill or capture these people and we feel this will have significant long term impact on the direction the Viet Cong and North Vietnamese activities in the Da Nang area."
Colonel Leftwich confided that the girth of his expectations had been leanly limited to only a few detainees in a daylight raid of this nature. He hadn't put much stock in predictions that the colonel and his staff would be in when his Marines came calling.

---
Contents of this page copied from articles published in the "Sea Tiger" during August 1970
Submitted by:
Pat Kenny, former 1stLt. USMCR
Major Duane Jensen photo from the '70-'71 Cruise Book
Back Browser or Home
-