Thomas J. "Sully" Sullivan's Fortitude
(Fortitude: The strength to persist, the courage to endure.)
September 25, 2003
Thomas J. Sullivan, 1stLt. USMC
VA Nursing Home Care Unit
795 Willow Road, Building 331-D
Menlo Park, California 94025
Dear Tom,
"Wild Bill" Beebe and Courtney "Snake Shit" Payne told us of your address and we are writing to tell you that you, Sir, are held in our highest esteem. We think of you a lot.
Your courage and skill as a Purple Fox Helicopter Pilot is the stuff of legend. You are one of the best, and probably the best pilot, the Squadron HMM-364 has ever had. You command our daily hope for you, our daily prayers and on a daily basis a tremendous amount of respect from all of us Purple Foxes.
God Bless you and yours, and may the Holy Spirit enlighten your life with joy in remembering that your fellow Purple Foxes respect and treasure you personally. You are the best!
Enclosed is your fellow Marines' message, that we are proud of you, and that your brother Purple Foxes hold you in the highest personal and professional regards.
"Sir, you are the best!! Semper Fi, Marine!
With all our respect and prayers now and always,
Your Brother Marines and Brother Purple Foxes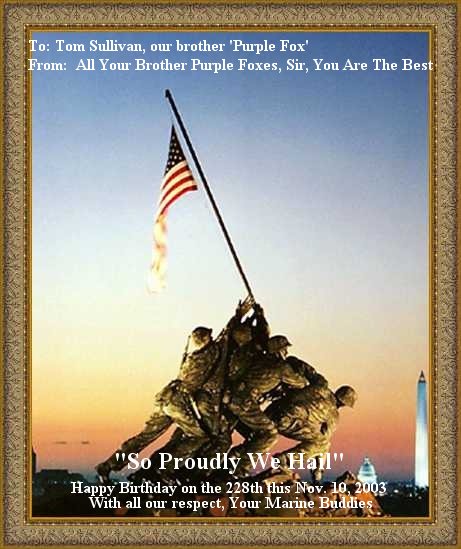 A gold etching of the Suribachi Flag Raising on Iwo Jima
(not shown) was enclosed with inscriptions as illustrated above.
The Presentation Trio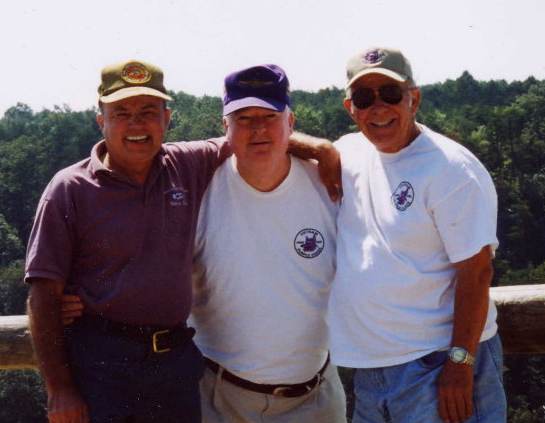 From left, William L. "Bill" Beebe, Joseph P. "Pat" Donovan and Courtney B. Payne.
(Note: Pat is standing in 18" hole so he won't tower above the other two Purple Foxes!)

---
The Marines who invaded the island of Iwo Jima demonstrated "FORTITUDE", defined by The American Heritage Dictionary as, Strength of mind that allows one to endure pain or adversity with courage. This trait has been demonstrated by Tom and his family for several years now and lead to your webmaster's titling of this narrative. Below is another item posted more than two years ago which resulted in a group of "Sully's" friends meeting with him in the VA nursing home to honor him and let him know he was respected and remembered. Sully's historical index with the Purple Foxes of HMM-364 can be viewed here.
---
07-24-01
Hard Down Purple Fox to be Honored
Sullivan, Thomas J. "Sully" 1stLt. '68-'69, is permanently confined to a VA nursing home. He was one of the "BEST". Transferred from HMM-161 at Quang Tri. There are a few NOTAM's from Don "OOGA" Smith on the subject (See NOTAM Board http://www.popasmoke.com. )
"Sully" made quite a bit of history with the FOXES. (Medevac Shot Down in Arizona Territory ? His Silver Star Medal award). "OOGA" is trying to put together a "Time" for Sully. Sort of a , THIS IS YOUR LIFE type of thing. Please help "Ooga" by touching base with him, getting all the scoop on "Sully", and pass it on, on the SWIFT-FOX-mike!
"Ooga" was "Sully's" gunner on many a shit sandwich up North with 161. He's still covering "Sully's" six. I have copied him in. You can reach him at this E-Mail address: COMPRISETV3@aol.com
Thanks for your help. Regards to Kahuna!
Semper Fi !
Norm "Frenchy" LaFountaine
"COMPRISE GUNS" TV-3 68 - 69