Donald V. Esmond,
a Former Purple Fox is Featured in Above & Beyond

Former Marines Conquer
the Civilian World
"The leadership qualities I learned in the Marine Corps give me a clear
vision of what needs to be accomplished and how to succeed when others fail."
BORN:
SERVICE:
OCCUPATION:
18 March 1944
United States Marine Corps, 1966 - 1972, Helicopter Pilot
Senior VP and General Manager, Toyota Division, Toyota Motor Sales USA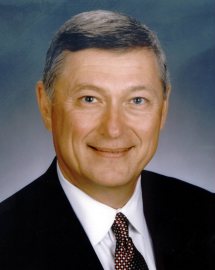 Don received a Navy ROTC scholarship to the Illinois Institute of Technology in Chicago, majoring in engineering before switching to business and economics. Out of 30 Navy ROTC candidates, Don was the only one who chose a Marine Corps option. He was president of the university's Semper Fidelis Society, student body president, and president of his fraternity, Sigma Phi Epsilon.
Following graduation in 1966, he was commissioned a second lieutenant and married the former Cheryl Whigham, who he had met while in Chicago.
Upon completing Marine Corps Basic Officers training in Quantico, Virginia, he went to Navy flight school in Pensacola, Florida for training in T-34s and T-28s. Don earned his instrument rating and carrier qualification aboard the USS Lexington before "the needs of the service" sent him to helicopter school. He received his wings in 1968 and transitioned to the CH-46 Sea Knight helicopter, known as the "workhorse" of the Marine Corps.
"My wife Cheryl went through her own Marine Corps initiation. I rented a basement apartment in Quantico without letting her see it first. That never happened again! I also spent all her dance money from the wedding reception on dress blues. I have been paying for that ever since."
In January 1969, he was sent to Vietnam and was initially assigned to Marine Medium Helicopter Squadron 364 (HMM-364), the "Purple Foxes," at Marble Mountain outside DaNang. He also served with the "Flying Tigers" of HMM-262 in Quang Tri and Phu Bai. " served with Marines who had nicknames like Wags, Weird Harrold, Chuckles and Easy Ed."
During his yearlong tour, Don flew more than 900 missions, including medevacs, recon inserts and extracts, troop lifts and resupply. Under the constant threat of hostile fire, he ws shot down twice and wounded once. Don was awarded the Silver Star, Distinguished Flying Cross, 45 Air Medals, and the Purple Heart.
"The leadership qualities I learned in the Marine Corps give me a clear vision of what needs to be accomplished and how to succeed when others fail."
After his Vietnam tour, Don was promoted to captain and assigned to train new CH-46 pilots back in the states. He also served as Officer-in-Charge of Marine Air Traffic Control Unit 46 in New River, North Carolina.
When he was discharged from the Marine Corps in 1972, Don landed a job in Seattle with the Lincoln-Mercury Division of Ford Motor Co. After numerous field assignments with Lincoln-Mercury and Ford, he moved to Detroit in 1980 to work in Lincoln-Mercury's fleet department.
In 1982, he joined Toyota Motor Sales as national fleet manager. He was later involved in the startup of the Lexus Division where he served as vice president of field sales responsible for the luxury brand's four area sales offices, marketing, business management and market representation activities.
Following the Lexus assignment, he was named vice president of the Large Car Series Team for the Toyota Division. During this time, he successfully launched the fourth-generation Camry, which sold more than 1.6 million units during its model cycle.
In his current position as senior vice president and general manager of the Toyota Division, Don also serves as a member of the company's executive committee. He is responsible for all division operations, including sales, marketing, distribution, market representation, fleet, retail development and Corporate used vehicles. He has directed the successful launches of the Sienna minivan, the Camry Solara sport coupe, the Tundra full-size pickup truck, Highlander SUV and Pirus electric-hybrid vehicle. Most recently, he was assigned the additional responsibility of overseeing Scicon, Toyota's new brand vehicle aimed at younger buyers.
"I attribute a large portion of my current success to the Marine Corps, which taught me the importance of loyalty, respect, leadership by example, competing with the best, dealing with adversity and accomplishing objectives through teamwork. I discovered very quickly that goals are achieved by a team effort and that your people always come first."
"The Marine Corps also taught me why diversity works because there were no color barriers in the Corps. Everyone was a Marine and you depend on each other to get the job done. You trusted each other with your lives."
in 1999, he was presented the prestigious Semper Fidelis Award by the Marine Corps Scholarship Foundation. He was later named a director of the foundation, which raises money and awards college scholarships to the deserving sons and daughters of Marine Corps personnel.