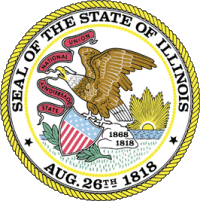 OFFICE OF THE SECRETARY OF STATE
____________________________________________________________________
JESSE WHITE - Secretary of State
September 12, 2003
Mr. J. Patrick Donovan, Esq.
City of Chicago, Department of Law
30 North LaSalle Street. 9th floor
Chicago, Illinois 60602
Dear Mr. Donovan,
This letter will serve to confirm your appointment by Illinois Secretary of State Jesse White to his Illinois Veterans Advisory Council.
The inaugural meeting of the Council is scheduled for Wednesday, November 12, 2003 in the James R. Thompson Center in Chicago. Details will be provided in a future mailing.
Mr. Donovan, you have the deepest gratitude of the Secretary for joining him in this historic and important endeavor of voluntary service to the people of Illinois.
Sincerely,
/s/ Mary Ann Scanlan,
Mary Ann Scanlan, Administrator
Citizens Advisory Boards
cc: Secretary White
_____________________________________________________________________
100 W. Randolph Street
James R. Thompson Center
(312) 814-2262