Col. Eugene R. Brady's Enshrinement on
the Santa Ana, Ca. Veterans Walk of Honor
May 30, 2006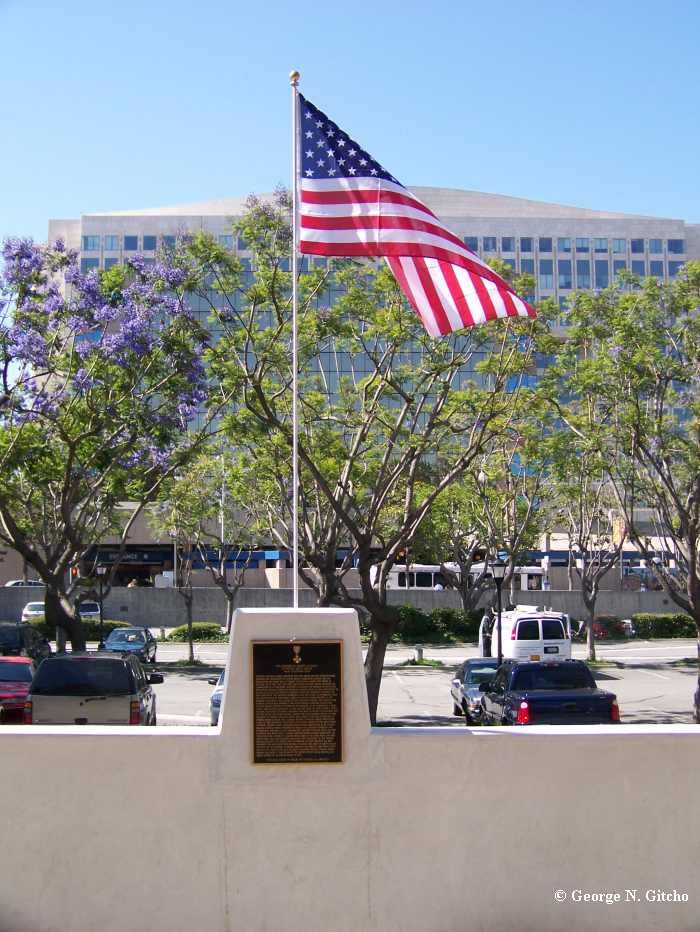 Colonel Brady's spot on the Walk of Honor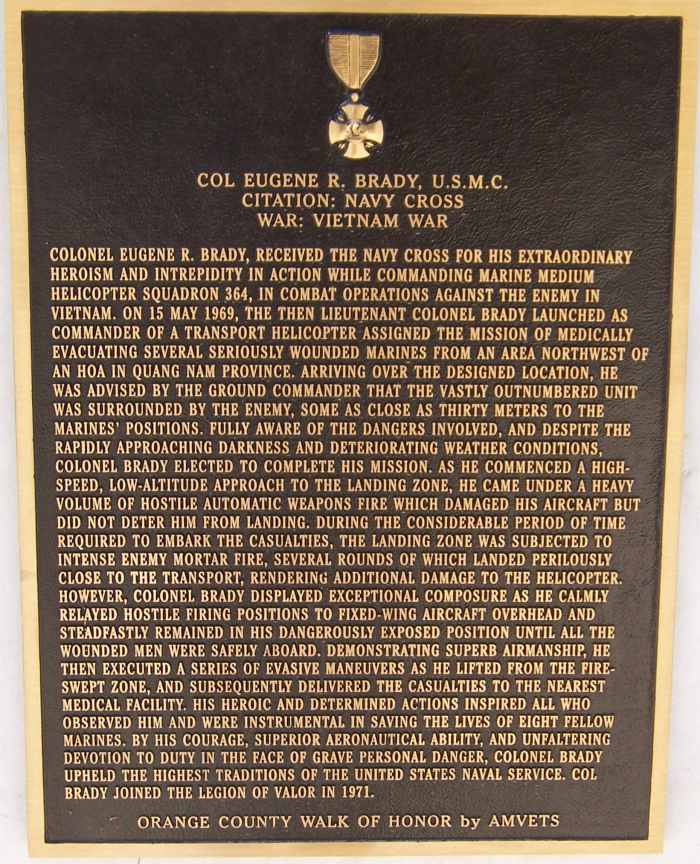 1stLt. Andrew R. Finlayson's view of this mission as the CO of G/2/5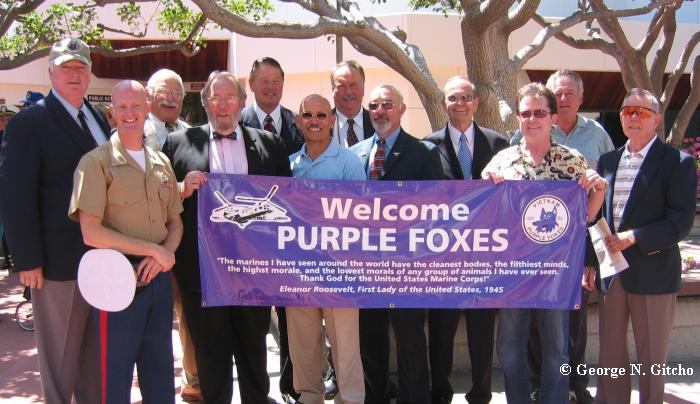 Beginning on the left: Pat Donovan; Capt. Ben Davenport, USMC (Purple Fox Squadron Pilot - Two Tours in Iraq - now assigned as Air-Ground Liaison with Marine Tanks at 29 Palms); Kelsey Peterson, M.D. (Purple Fox Flight Surgeon following Clay Linkous, M.D. in 1969); Hayden "Hondo" Wilbur; Russ "K-10" Kleinheksel; George "Shakey" Gitcho; Al "Fat Al" Robillard; Rich Bianchino, Lt. Col. USMC(Ret); Eugene R. "Papafox" Brady, Colonel, USMC(Ret); Ben "Gentle Ben" Williams; Mike Davis, Major, USMC(Ret); Ed Rogal, Colonel, USMC(Ret) [Honorary Purple Fox and Veteran of WWII, Korea and Vietnam]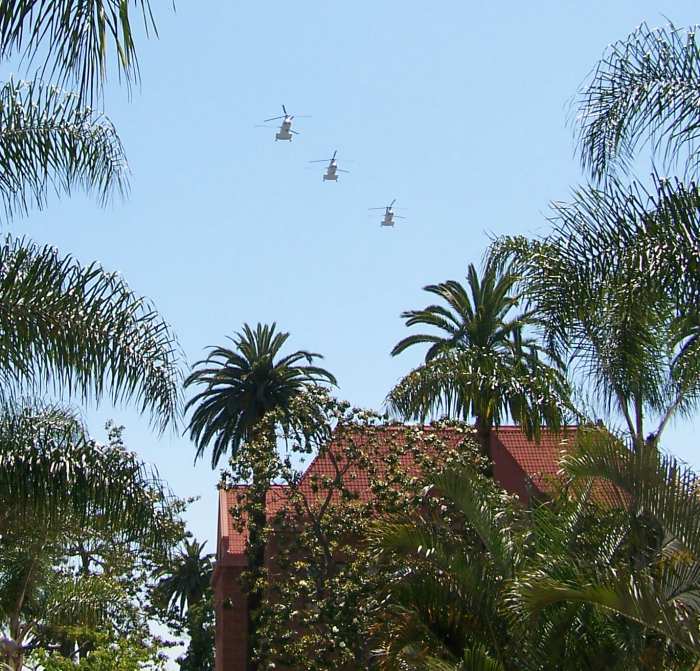 Flyover was graciously conducted by the active duty Purple Foxes from Camp Pendleton, Ca. A special "Bravo Zulu" for the coordination, of invitation from Orange County Officials, by Col. Lon M. Yeary, USMC, Commander USMEPCOM, ( and former CO of "The Purple Foxes"); LtCol. Sean C. "Kid" Killeen, USMC, Commanding Officer of "The World Famous Purple Foxes"; LtCol. Christopher W. "Roadkill" Morton, USMC, Operations Officer of MAG-39, (on scene Forward Air Control); Richard Bianchino, LtCol. USMC (Ret) and Major Gabriel L. "Exxon" Valdez, USMC who served as Official MAG-39 Ceremony Escort of Col. Brady, USMC(Ret).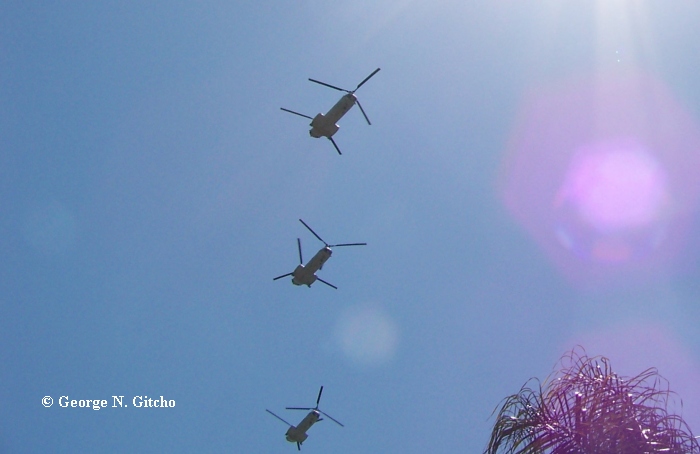 Although they have been upgraded several times, these are the same CH-46s in formation over the Santa Ana Civic Center for the "Walk of Honor" that we flew in Vietnam. Special thanks to each and all of those who achieved this mission with the above highly appreciated and loudly applauded pass in review salute to all those serving in our Nations Military Forces. Particularly, appreciated are the members of the Orange County Board of Governors, and a host of AmVets, American Legion, VFW, and many similarly significant Veterans Organizations from throughout proud Orange County Communities.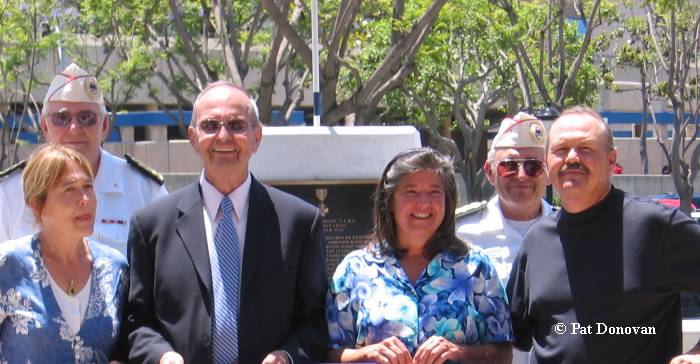 Jennifer Brady Andrews, Janet Brady and James Brady, immediate left to immediate right, proudly honor their Dad, "Walk of Honor Recipient" Colonel Eugene R. "Papafox" Brady, USMC (Ret). Members of the Orange County Amvets Color Guard stand at attention along side the Brass Plaque of Citation for The Navy Cross awarded to Col. Eugene R. "Papafox" Brady, USMC (Ret) seen above.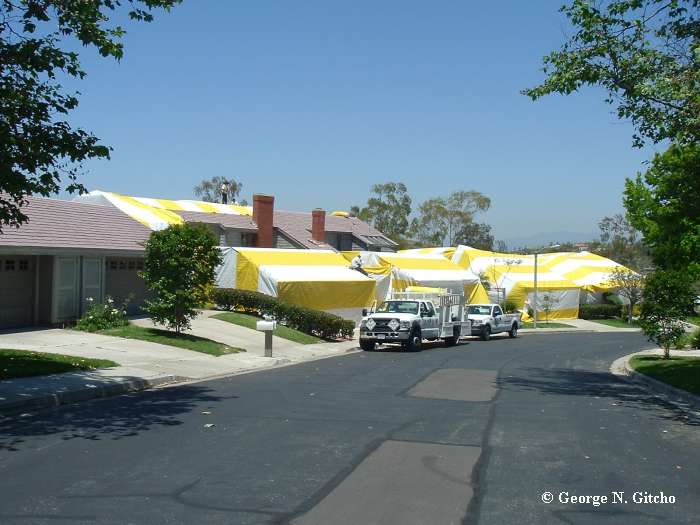 Yellow and white insect control tents in the neighborhood drew the attention of San Antonio's now full time businessman and "Home Inspector" George N. "Shakey" Gitcho, Retired Senior Captain of Alaska Airlines, who was heard to say, "Gene Brady's 'Open House/Hootch Party' is big, but not this big!"
After the Walk of Honor ceremonies, all were invited to the Brady home where his daughters, son and daughter in law, and friends had arranged to accommodate a large crowd of visitors. Not seeing Colonel Brady, one visitor asked where he was. The answer was, "Oh, he is out back in his hootch."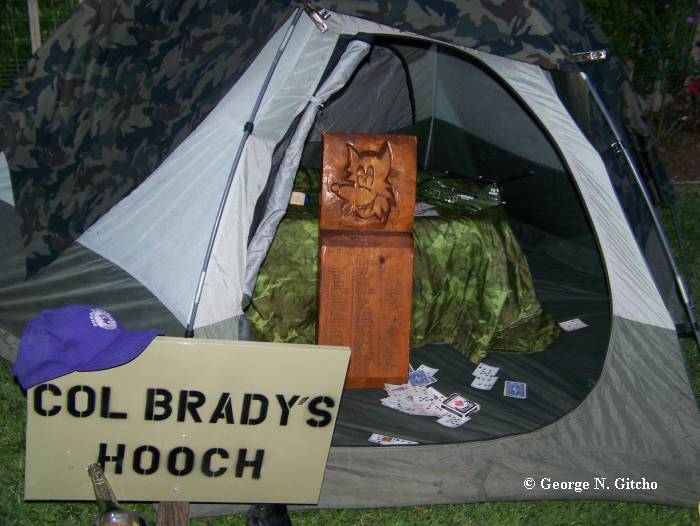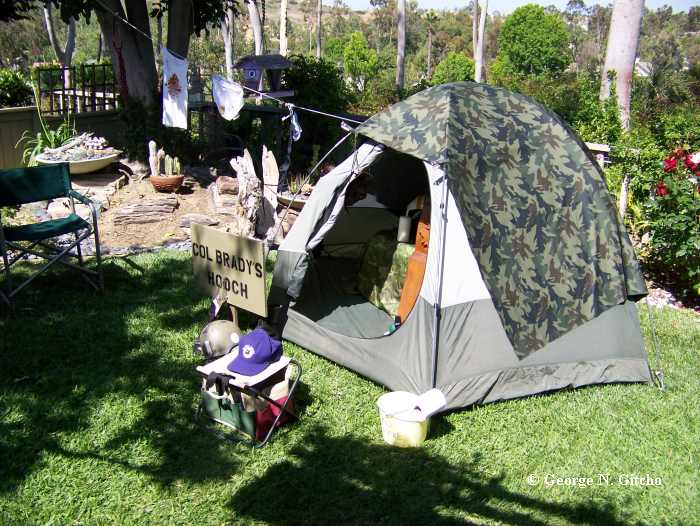 Some things never change!
Epilogue
In the language of my hometown, "here's how the cow ate the cabbage!":
These Marines need to be singled out by you in a separate note of appreciation. They are the connecting link that made this mission a success, in fact without their telecon agreement, it never would have happened.
From the Orange County Board of Governors, wonder of wonders, it is a Marine, now civilian Chair of the Orange County Veterans Council, "...named Vanda Bresnam. She is a former Marine.. " (See attached program pp 1 thru 4.
From the Marine Corps it was point of contact Col. Lon M. Yeary, USMC (Ret) Commander, USMEPCOM, who spoke directly with Orange County point of contact, Vanda Bresnam. There they put the link together, that is, she needed someone to ensure a formal escort for Col. Brady (that was the nominee/select "Exxon" Valdez, Major, USMC) and Col. Yeary needed an authorized sign off to obtain approval from CMC. Yeary traded his "Exxon" card for Vanda Bresnam's obtaining authorization from the City of Santa Ana and Orange County. There you have it...the connecting link.
Kudos to Col. Yeary and to Vanda Bresnam, Chair of the Orange County Veterans Council and the City of Santa Ana and the Orange County Board of Governors, and especially to Rich Bianchino, Lt. Col. USMC (Ret).
Joseph P. "Pat" Donovan, former Major USMCR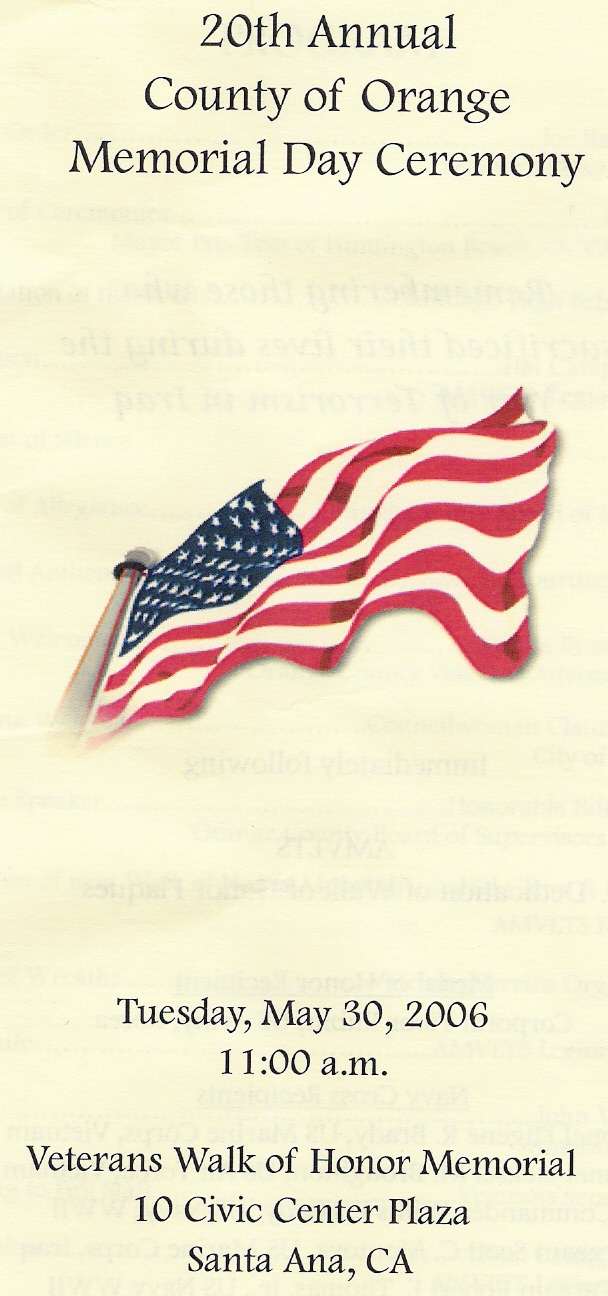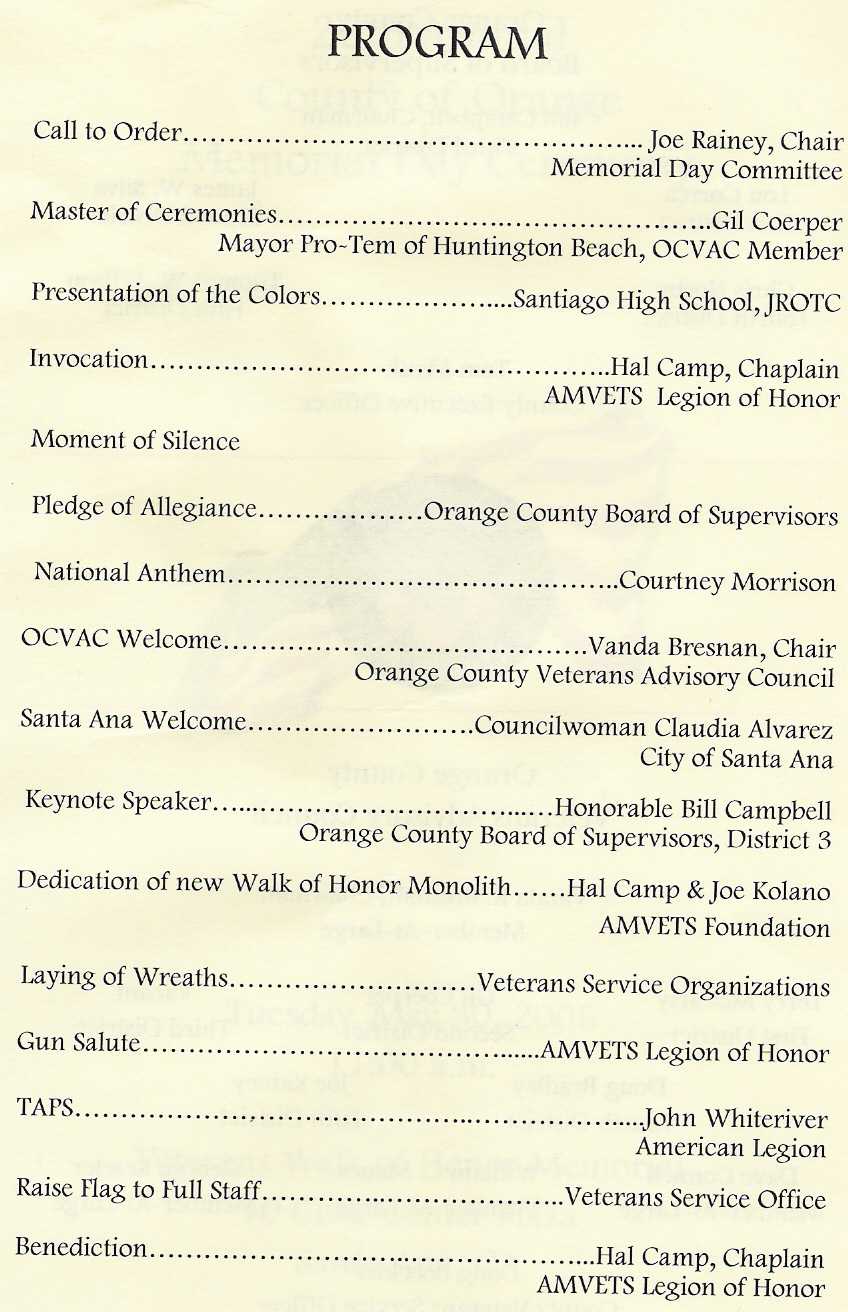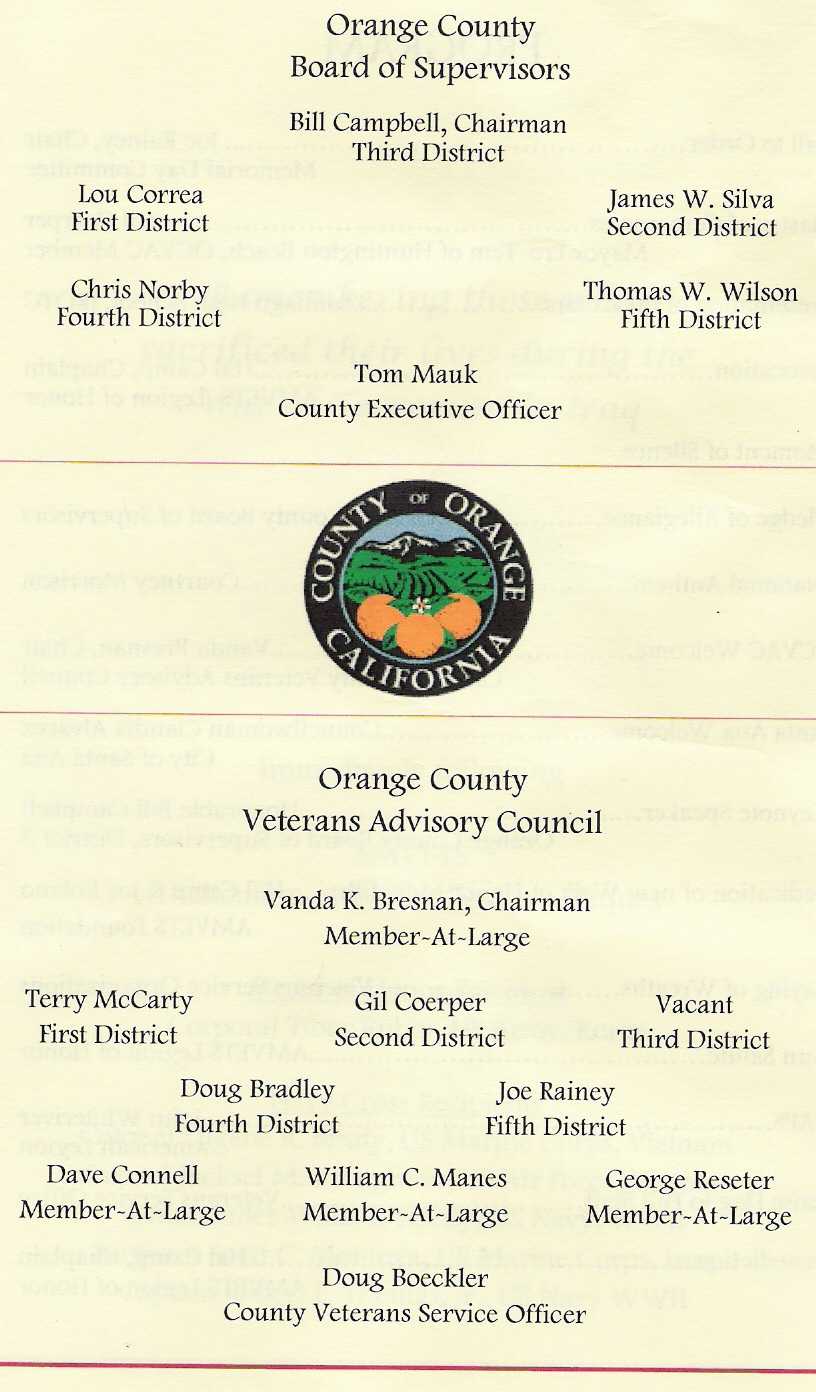 Back Browser or Home
.