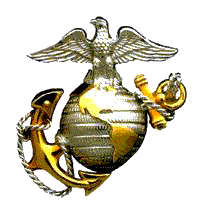 The Secretary of the Navy takes pleasure in presenting the
NAVY COMMENDATION MEDAL to
CORPORAL TERRY LEROY SPRINGER
UNITED STATES MARINE CORPS
for service as set forth in the following
CITATION:
"For heroic achievement while serving with Marine Medium Helicopter Squadron 364, Marine Aircraft Group Thirty-Six, First Marine Aircraft Wing in connection with combat operations against insurgent communist (Viet Cong) forces the enemy in the Republic of Vietnam. On 28 May 1968, Corporal SPRINGER launched as Crew Chief aboard a CH-46 transport helicopter assigned the emergency extraction of a Marine reconnaissance team which had been heavily engaged with a large enemy force near An Hoa in Quang Nam Province. When his aircraft arrived over the designated area, Corporal SPRINGER realized that the extremely hazardous terrain would require a difficult hoist extraction utilizing a jungle penetrator. Alertly observ- ing the reconnaissance patrol on the ridge of a steep cliff, he skillfully provided instructions which enabled the pilot to establish a precarious hover above the team. Despite the confirmed enemy activity in the area, he unhesitatingly descended on the hoist to assist two of the wounded who were unable to evacuate themselves. Maintaining his balance on a narrow ledge, he cautiously secured one of his injured comrades to the hoist, which lifted him to the relative safety of the helicopter. When the device was lowered again, he assisted another wounded man into the jungle penetrator and remained with him to prevent the casualty from falling as they were hoisted into the aircraft. On the following day Corporal SPRINGER returned to the hazardous area and skillfully assisted in extracting the remainder of the reconnaissance team from the precarious position. By his courage, resolute determination and stead- fast devotion to duty, Corporal SPRINGER was instrumental in saving the lives of several wounded Marines and upheld the finest traditions of the Marine Corps and of the United States Naval Service."
The Combat Distinguishing Device is authorized.
FOR THE SECRETARY OF THE NAVY,
/S/ H. W. Buse, Jr.
H. W. BUSE, JR.
LIEUTENANT GENERAL, U.S. MARINE CORPS
COMMANDING GENERAL, FLEET MARINE FORCE, PACIFIC