Combat Air Crew Wings Awarded 38 Years Late
On February 5, 1968 YK-13 was shot down while conducting a medical evacuation from Hue City. The aircraft was crewed by five Marines and one Navy Corpsman. Only the corpsman, HN Jack S. "Doc Sparky" Ehrhardt, survived the crash.
For thirty three years the fate of the Navy Corpsman remained unknown other than he was critically wounded. During November 2000 Kelly Lea, who is the niece of Major Leonard R. Demko (the aircraft commander of YK-13), became aware of this web site dedicated to the Marines and Navy Corpsmen of HMM-364 and directed her efforts toward locating the sole survivor of this terrible incident. Kelly turned to the "power of the internet" and posted several requests for additional information relative to the crash of YK-13 on various sites dealing with the Vietnam War. An employee of the Erie Veterans Affairs Medical Center of Erie, PA. read her posting and believed that a friend of his could be the Corpsman in question. Doc Sparky as we knew him, had been found.

It was learned that Doc Sparky had not been awarded the Combat Air Crew Wings (CACW) he had earned while flying medical evacuation missions with the CH-46 squadrons at Marble Mountain Air Facility. To correct this oversight John A. "Al" Chancey, Thomas J. "TJ" Miller and Franklin A. "Uncle Frank" Gulledge teamed up to document Doc Sparky's combat missions and found After Action Reports maintained by Headquarters United Sates Marine Corps that confirmed he had, in fact, earned the CACWs. The information was sent to the Commanding Officer of HMM-364 at Marine Corps Air Station, Camp Pendleton, CA requesting that he authorize Doc Sparky the right to wear the wings. (Click here for original request and complete story of the YK-13 crash). Link is in Acrobat Reader format. To obtain free software download it here:
http://www.adobe.com/products/acrobat/readstep2.html

Colonel William H. Dabney, USMC (Ret) and his Warriors of Hill 881S were holding their first reunion after departing that hill 38 years ago and invited any of the Purple Foxes who flew in support of them to attend also. Sixteen Purple Foxes accepted the invitation, Doc Sparky being one of them. Kelly Lea, Major Demko's niece, was also invited to attend.

On Saturday morning, November 18, 2006, the Warriors of Hill 881S and the Purple Foxes visited the Vietnam Memorial. All gathered in front of panel 37E, containing the names of Doc Sparky's YK-13 crew, and his Combat Air Crew Wings were awarded.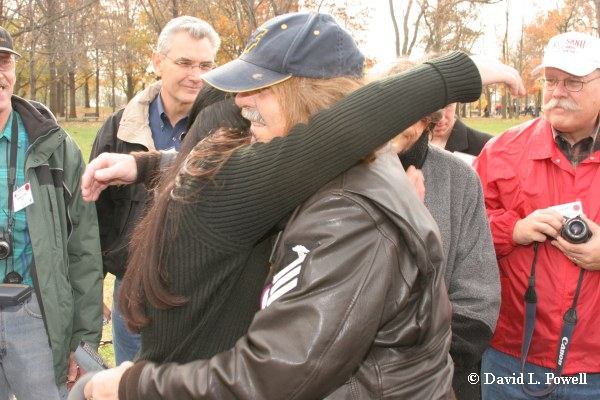 An emotional first meeting of Kelly Lea and Doc Sparky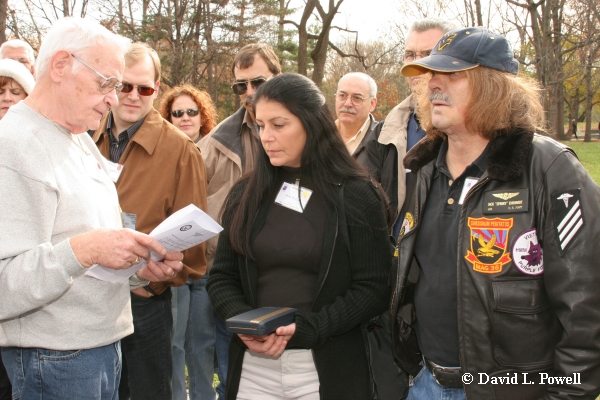 Frank Gulledge reading the endorsement granting the award.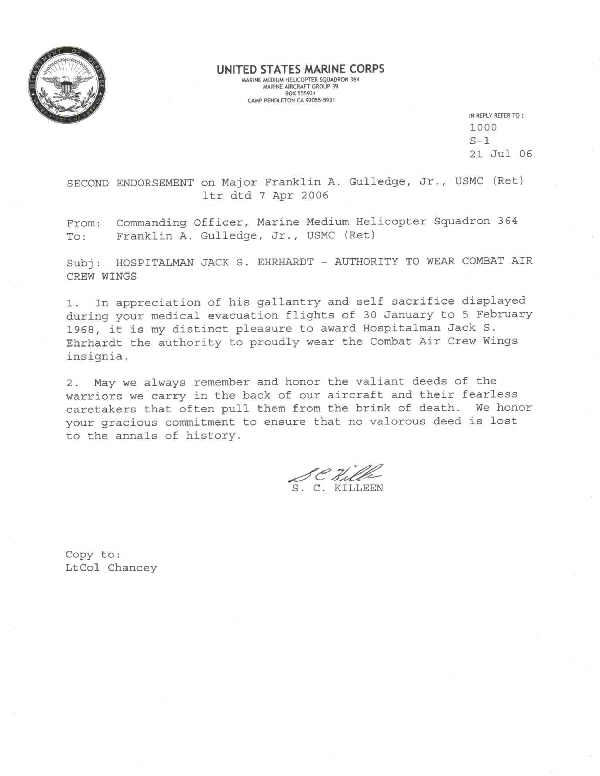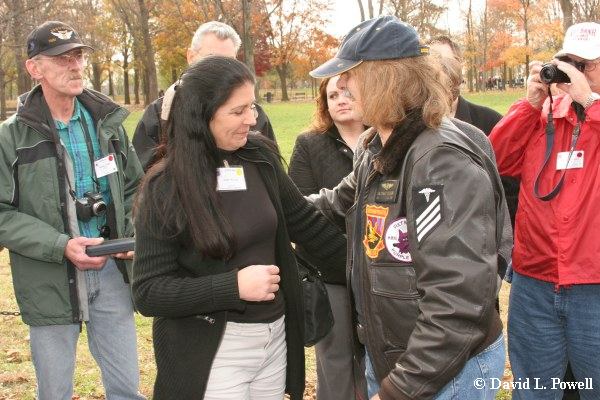 It was normal for both the Combat Air Crew Wings and the first Air Medal to be awarded at the same time since the requirements were the same for both. Kelly Lea pinned both on Doc Sparky even though his DD214 did show he rated the Air Medal. Both the Air Medal and the Combat Air Crew Wings were provided by Thomas J. "TJ" Miller, shown on the left, who had flown as a crew chief with Doc Sparky on another medical evacuation flight immediately preceding the crash of YK-13.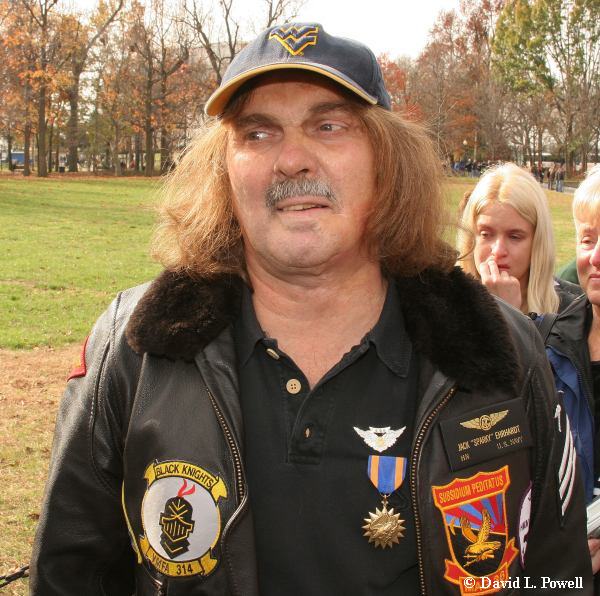 Doc Sparky relating that meeting Kelly Lea and the Purple Foxes who cared enough to see that these awards were authorized, and presented to him made in this solemn location, was one of the greatest moments in his life.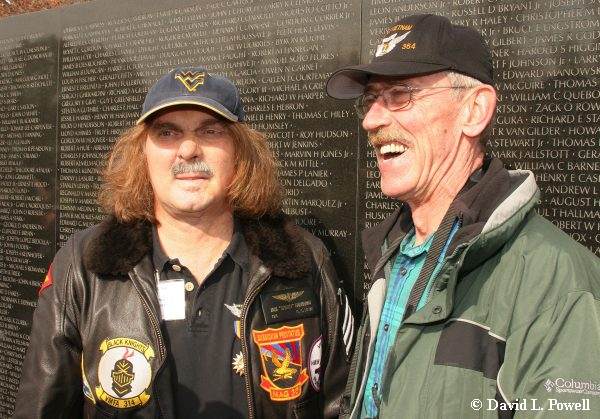 Doc Sparky and Thomas J. "TJ" Miller stand before panel 37E containing the names of Doc Sparky's crew who lost their lives on 5 February 1968.