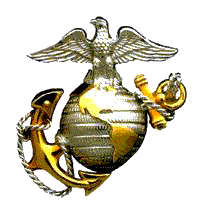 The Secretary of the Navy takes pleasure in presenting the
NAVY ACHIEVEMENT MEDAL to
STAFF SERGEANT FRANK SCHMIDT, JR.
UNITED STATES MARINE CORPS
for superior professional achievement as set forth in the following
CITATION:
"While serving with Marine Medium Helicopter Squadron 364, Marine Aircraft Group Sixteen, First Marine Aircraft Wing in connection with combat operations against the enemy in the Republic of Vietnam from 3 November 1968 to 5 October 1969, Staff Sergeant Schmidt performed his duties in an exemplary and highly competent manner. As Squadron Intelligence Chief, he displayed outstanding initiative and perseverance despite the extremely ad- verse conditions and difficulties associated with a combat environment. By his consistently high level of efficiency, he materially enhanced the operational pro- ficiency of his unit and gained the respect and admiration of all who associated with him as he skillfully collected, correlated, and disseminated vital intelligence da to the commanding officer and other Marines of his squadron, thereby en- suring that all personnel wee constantly abreast of the changing enemy situation and contributing to the safety of tactical aircraft missions. In addition, Staff Sergeant Schmidt advised and assisted the Secret and Confidential Files Section in proper procedures for maintaining accurate control of classified material and was instrumental in reducing the possibility of compromise of classified material and information. Staff Sergeant Schmidt's outstanding professional ability, untiring determination, and steadfast devotion to duty throughout his tour in the Republic of Vietnam, reflect great credit upon himself, the Marine Corps, and the United States Naval Service."
The Combat Distinguishing Device is authorized.
FOR THE SECRETARY OF THE NAVY,
/S/ H. W. Buse, Jr.
H. W. BUSE, JR.
LIEUTENANT GENERAL, U. S. MARINE CORPS
COMMANDING GENERAL, FLEET MARINE FORCE, PACIFIC