ANOTHER DAY AT THE OFFICE
OUR MISSION
The primary mission of a Marine Medium Helicopter Squadron is to give direct support to the fighting units on the ground. These may be allies as well as our own troops.
In Vietnam the flexibility of the helicopter make it an integral part in all facets of support. To find a helicopter lifting troops at one minute and bringing out a medical evacuation the next is routine.
When called upon we drop Force Reconnaissance Teams deep in the mountains with the knowledge that the extraction of these same men could come at any time, day or night.
Upon the relocation of troops comes the task of re-supplying them with food, water and ammunition. This is part of the game and sometimes a most tedious part of our mission.
When the word comes that a unit is in trouble the helicopter is immediately put into motion either to extract these men or counter-attack by providing additional troops in support of those besieged.
The UH-34 helicopter is a team effort with four men working as a unit to complete whatever task they may be asked to perform. These four men (pilot, copilot, crew chief and gunner and possibly a fifth member the corpsman) make a combat unit that is called on at anytime to complete missions as necessary.
---
HISTORY
In August the Squadron departed the United States for Vietnam to resume the fight against the Vite Cong (VC) after only an absence of nine months. The personnel of HMM-364 were a mixture of combat seasoned veterans from previous tours and those who would be fighting for the first time. Debarking from the USS PRINCETON in September, the squadron came ashore at Ky Ha.
Ky Ha is located about forty five miles south of Da Nang on the South China Sea. The squadrons mission was to support the III Marine Amphibious Force (MAF) and I Corps. This mission provided the squadron with a great variety of tasks covering everything from hauling fish oil on routine resupply to troop lifts into enemy territory while under fire.
The VC were not the only problems encountered by the squadron. Toward the end of September the monsoons came bringing heavy rain which turned Ky Ha into a sea of mud. When it wasn't raining dust replaced the mud as our constant companion.
From somewhat less than ideal conditions Ky Ha was improved by replacing tents with buildings. Construction of a chow hall, and a second helicopter mat was built to augment the first.
From September to April HMM-364 produced an enviable record for performance. This was as a result of hard work and a "can do" attitude on the part of squadron personnel, in other words they "gave a shit". Combat flying required the utmost from both men and machines and the "Purple Foxes" were not found wanting in either respect.
During the seven months spent at Ky Ha the squadron flew 8,500 hours. These hours were accumulated flying troop lifts, resupply, search and rescue, recon insertions and medical evacuations . The squadron participated in operations Hard Rock, Quick Draw, Blue Marlin, Black Larret, the relief of Hiep Duc, (where two Vietnamese Crosses of Valor were received), Harvest Moon, Double Eagle, Utah, Texas and Indiana.
The men of HMM-364 received, or were recommended for, three Silver Stars, four Distinguished Flying Crosses, five Bronze Stars, 2,500 Air Medals, thirty Navy Commendation Medals and, unfortunately, eighteen Purple Hearts (seven posthumously).
On April 8 HMM-364 embarked aboard the USS PRINCETON. The squadron quickly adapted to flying from the decks of the carrier. With the squadron and a Marine battalion aboard, a very highly effective and mobile striking force was realized. The 1st Battalion, Fifth Marines and the "Purple Foxes" conducted operation Osage North of Da Nang. This battalion was off loaded at Ky Ha and the Princeton steamed to Okinawa to pick up the 3rd Battalion, Fifth Marines as a replacement.
Working with the 3rd Battalion, Fifth Marines in operations Deckhouse I and Nathan Hale brought our ship board tour to an end.
HMM-364 departed the ship on July 4, 1966 and returned to its old home, Ky Ha. During the first eleven months in Vietnam the "Purple Foxes" hauled over 60,000,000 pounds of cargo, 50,000 troops and passengers, 1,500 medical evacuations and 500 POWs . Over 24,000 total pilot hours and 30,000 sorties were flown while on the tour. We are proud to serve.
---
Lt. Col. William R. Lucas
Commanding 29 July '65 - 27 March '66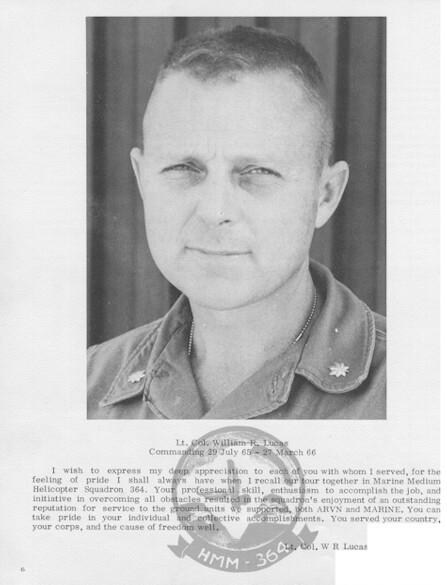 "I wish to express my deep appreciation to each of you with whom I served. for the feeling of pride I shall always have when I recall our tour together in Marine Medium Helicopter Squadron 364. Your professional skill, enthusiasm to accomplish the job, and initiative in overcoming all obstacles resulted in the squadron's enjoyment of an outstanding reputation for service to the ground units we supported, both ARVN and Marine. You can take pride in your individual and collective accomplishments. You served your country, you Corps, and the cause of freedom well."
/s/ W. R. Lucas
Lt. Col. USMC

---
Lt. Col. Daniel A. Somerville
Commanding 27 March '66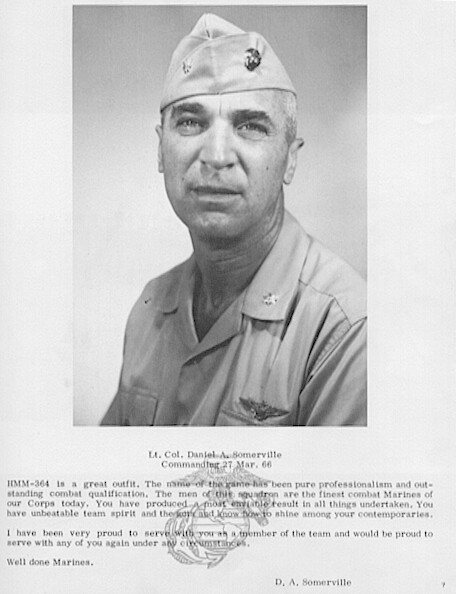 "HMM-364 is a great outfit. The name of the game has been pure professionalism and outstanding combat qualification. The men of this squadron are the finest combat Marines of our Corps today. You produced a most enviable result in all things undertaken. You have unbeatable team spirit and the guts and know how to shine among your contemporaries."
"I have been very proud to serve with you as a member of the team and would be proud to serve with any of you again under any circumstances."
"Well done Marines."
/s/ D.A. Somerville
Lt. Col. USMC

---
PHOTO (OR ROGUES) GALLERIES
NEXT PAGE (1) LTCOL, MAJOR AND CAPTAIN PHOTO GALLERY
NEXT PAGE (2) SENIOR LIEUTENANTS PHOTO GALLERY
NEXT PAGE (3) OTHER LIEUTENANTS PHOTO GALLERY
NEXT PAGE (4) SENIOR STAFF NONCOMMISSIONED OFFICERS
NEXT PAGE (5) SENIOR SNCO AND REMAINDER BEGINNING WITH "A"
NEXT PAGE (6) PHOTOS OF MARINES B - C
NEXT PAGE (7) PHOTOS OF MARINES C - F
NEXT PAGE (8) PHOTOS OF MARINES G - I
NEXT PAGE (9) PHOTOS OF MARINES J - M
NEXT PAGE (10) PHOTOS OF MARINES N - R
NEXT PAGE (11) PHOTOS OF MARINES O - T
NEXT PAGE (12) PHOTOS OF MARINES T - Z
NEXT PAGE (13) CHAPEL ON THE BEACH & MEMORIAL