Pittsburgh Press
Friday, July 15, 1966
After Jungle Crash
Marine Birds Pick 2 From Cong Nest
by Jim G. Lucas, Scripps-Howard Staff Writer
QUANG NGAI, July 6 - The American stumbled down a steep hill, his feet splashed in the bed of a shallow stream and a Marine helicopter hovered overhead.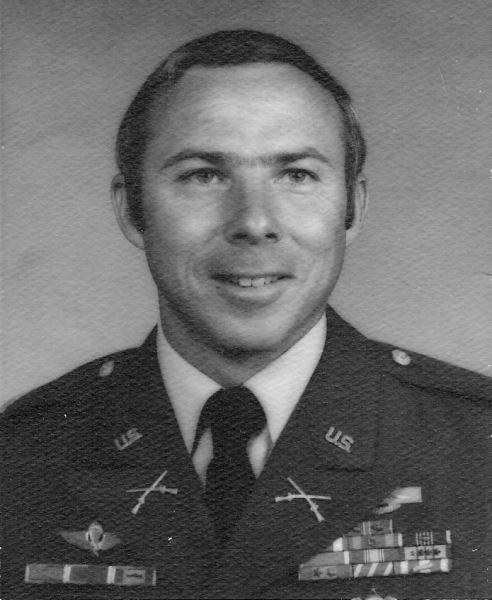 Army Captain Stephen Perry of Salem, Ore., had 100
yards to go. One hundred yards to the sling dangling
from the hovering bird. One hundred yards to escape
the Communist Vet Cong all around him. 100 yards -- if he made it -- to safety.
It was hard going. His breath came in aching bursts.
Every step cost him. His right ankle had been badly
sprained, possibly even broken. His left cheek was
gashed from ear to nose. He was losing blood.
Captain Perry, commander of a Special Forces detachment at Gia Vuc, was no stranger to the jungle. Forty five minutes earlier, he and Lt. Tony Cardillo, the pilot of Providence, R.I. had been aboard an L-19 spotter plane looking for Viet Cong. Captain Perry was the observer and they'd found a whole company of Viet Cong. They had flown low to mark the target for jets when a down draft sucked them in. Lieutenant Cardillo's plane disappeared beneath the jungle canopy and was swallowed up.
A Marine Phantom pilot high in the sky saw them go down. But fast jets are helpless at such a time. The jet radioed for help. Four Marine helicopters had begun their letdown at Quang Ngai, 20 miles toward the coast, when the call came. They zoomed for altitude and swung back toward the jungle.
Ours was the second of the four ships. Marine Lts. Brice Lueditke of Sheridan, Wyo., and Curtis Holmes of New York City, were at the controls. Capt. Dick Gleason of Townsend, Wash., and Lt. Wally Krywko of Detroit, were in the cockpit of the lead ship; Capt. Chuck Riordan of Norwich, Conn., and Lt. Dave Shore of Marion, Mass., flew the third; Capt. Jeff Mattison of Oxnard, Calif., and Lt. Pat Parker of Seattle, the fourth.
The pilots gave their ships full throttle, but the big H-34s seemed to crawl through the air. It would be touch and go. The four choppers had just com- pleted a supply run and none had more than half a tank of fuel.
Dick Gleason and Wally Krywko arrived at the crash scene first. The helicopter dropped down to tree-top level and hovered. Its rotor wash turned back the tops of the tallest trees.
Lieutenant Cardillo had crashed in the midst of an enemy position. The enemy was still there. Bullets smacked into the hovering bird. Around the downed aircraft nothing moved.
There was only one thing to do now. Marine Sgt. Donald Alfier of Phoenix, Ariz., went out the chopper door and into the jungle in a leather sling. Hidden snipers fired furiously as he disappeared beneath the canopy.
Sgt. Alfier had protection. Phantom jets darted down -- too low for safety, strafing the area. Sergeant Alfier's gunner and friend, Cpl. Nick Torrieri of Whittier, Calif., fired a machine gun steadily into the surrounding bush. So did the gunners and crew chiefs in the other three choppers -- Sgt. Carl Wells of Harrisburg, Pa., and Cpl. Jerry Isaacson of Rich Hill, Mo., from No. 2; Sgts. Jim Vance of Barlow, Ky., and Barney Espinoza, Jr. of Austin, Tex., from No. 3; Sgt. Wolfhard Dornewass of Camden, N.J., and Cpl. Forrest Knisely of Columbia City, Ind., from No. 4.
Slowly, Sergeant Alfier came up through the tree tops again. He had spent almost five minutes in a fruitless search. Lieutenant Cardillo and Captain Perry had fled into the jungle. It was 10 minutes later that Wally Krywko spotted their green smoke signal 300 yards from the crash scene. Another 10 minutes passed before the two men crept out of the bush. Lieutenant Cardillo, also badly cut on the face and with a broken left wrist, eased him- self into the sling. Grunting and sweating Sergeant Alfier and Corporal Torriere hauled him up.
The Viet Cong began a furious barrage. Mortars and hand grenades reached desperately but vainly for the hovering helicopter. Lieutenant Cardillo was half in -- half out the open door when Captain Gleason gunned his ship and flew away. "Don't leave him!" Lieutenant Cardillo Shouted. "We won't," Sergeant Alfier promised. The helicopter executed a sharp turn and dropped down again. The Viet Cong renewed their fire. Once more, jets and heli- copter gunners drove them to cover.
Slowly, painfully, stumbling down a steep hill, Captain Perry scrambled over those last 100 yards. Gratefully, he settled into the lowered leather sling and rode to safety above the tops of the jungle trees.