MIA Vietnam Purple Fox pilot 1st Lt Stanley G. Johnson: FOUND!
Johnson was shot down on 3 DEC 65 in his UH-34D
approximately 30 kilometers west of Tam Ky Town.
Our story of the crash.
Johnson's page on the Vietnam Vetrans Virtual Wall.
---
MIA UPDATE of 26 FEB 2000.
Incident Date: 65/12/03
Submitter: ALEX VILLALVA
E-mail: ALEJANDRO.VILLALVA@BROOKS.AF.MIL
Relationship: OFFICIAL INVESTIGATOR
Comments:
Sirs,
I write to you with a request for any contacts to unit witnesses or participants of the downing of a HMM- 364 UH-34D on 03 Dec 1965 (Bu. No. 148762). My connection with this incident is an official one. I am a USAF civilian employed at the USAF Life Sciences Artifact Section, @ Brooks AFB, San Antonio, TX. My scientific lab investigates military equipment artifacts that are officially recovered from ground action burial and aircraft crash sites in SEA, with the mission of accounting for US servicemen still MIA.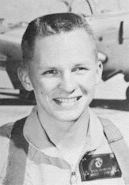 This specific case, officially known as REFNO 0203, deals with the task of attempting to account for the co-pilot of this aircraft, 1stLt. Stanley Garwood Johnson (through scientific analysis of limited life support equipment artifacts), whose remains were never found or recovered from the site (unlike his three brother crewmen, who were each identified through forensics).
My goal is to research (through HMM-364 vets) what exact flying apparel types were worn by HMM-364 crew members during this period, so as to specifically ID the equipment artifacts, and thus possibly provide some additional insight to the outcome of this last valiant HMM-364 crew member.
Please feel free to contact me via email. I list Mr. Charlie Rains of the VHCMA as a reference, as he has aided me greatly in past Army helo crew MIA (SEA) cases I've worked.
Many thanks for your assistance and consideration of my request.
Respectfully,
Alex Villalva
LSAS Equipment Analyst
---
Message to the "Purple Foxes" of '65 - '66
Marines of '65 - '66
I have been advised that an investigation of remains and/or flight equipment recovered in Vietnam may lead to the identification of 1stLt. Stanley Garwood Johnson. The information received has been published on your web site located at:
Each recipient of this message is encouraged to respond. It does not matter that information is redundant, the more information received, the better the chances of proper identification. The "Purple Foxes" joined together in '65 - '66, it is now time to put the pack back on to assist Stanley's family and friends as well as the "Purple Foxes."
You may respond directly to Alex Villalva with the link which follows. Good Luck!!
mailto:alejandro.villalva@brooks.af.mil
This one message sent today has made all the time and effort of producing this site worth more than you could possibly imagine.
Franklin A. Gulledge, Jr
Major USMC (Ret)
and Webmaster HMM-364 (Vietnam)
Back Browser or Home
-