"The Lady From 29 Palms"
Pfc. James L. Young adopted a young puppy in June, 1963 while on duty with an HMM-364 Search and Rescue team at Marine Corps Base 29 Palms, California. When Young returned to Marine Corps Air Facility, Santa Ana he brought the pup with him. On several occasions in the barracks, Young awoke at reveille to cries of "Damn it, where's my other sock?' or "Where is my shoe, damn it." The culprit was the puppy who thereby gained the name of "Dammit."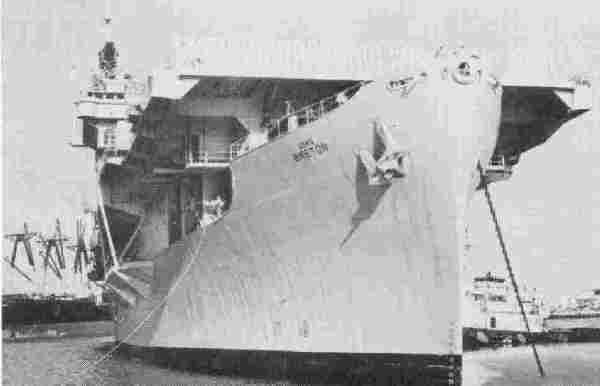 "Dammit" became HMM-364's mascot and accompanied the squadron across the Pacific aboard the USNS Breton in November. Joe Barlow recalls, "She was in every respected a member of the squadron and a Marine. Why both she and I, as well as a number of other Marines, were suffering from a mild bout of sea sickness when the announcement of President Kennedy's assassination was broadcast over the ship's MC-1."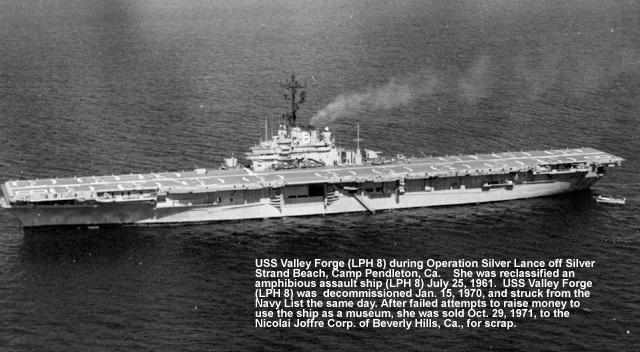 She went with HMM-364 to Vietnam in February 1964 and flew many combat missions in squadron aircraft as part of the air crew. "Dammit" stayed in Okinawa while the squadron was deployed aboard the USS Valley Forge during August and September 1964. When HMM-364 returned to Okinawa, "Dammit" welcomed everyone back and looked forward eagerly to returning to the United States in December.
As the squadron was preparing to return home, Pfc. Young discovered that U.S. Customs regulations required a one month quarantine period in Okinawa for "Dammit." This was totally unacceptable for Pfc. Young. He deduced that if she were properly sedated, "Dammit" might sleep the entire duration of a flight in one of four Air Force C-135s scheduled for the entire squadron's return transportation.
Some form of tranquilizer was secured and the dosage determined. Just before the flight was scheduled to depart "Dammit" received the prescribed dose. After she was in a deep sleep she was placed in an AWOL bag and ready to go home. One problem arose however, the Air Force C-135 did not depart on time. There was a considerable delay. About mid-way through the flight the tranquilizer wore off and here was "Dammit" running up and down the isles of the C-135. The flight crew threatened to turn around and return the illegal stowaway to Okinawa. Well you can imagine how this went over with a group of battle weary Marines who were half way home. The did convince the crew that they had no intention of returning to Okinawa, and further there was enough talent and will power aboard that C-135 to fly it to America with or without the assistance of the Air Force crew.
Upon arrival at Marine Corps Air Station El Toro, Ca., she was placed back in the AWOL bag and carried down the steps of the boarding ramp. She was then discretely liberated to take care of calls of nature. Upon completion of that matter, "Dammit" made the section muster and was portrayed to U.S. Customs officials as a pet that had come to greet her master upon his long awaited return.
Editor's Privilege: In light of the powers and privileges bestowed on this editor and web master, I hereby declare that "Dammit" be awarded the "Combat Air Crew Wings" and the "Air Medal" for meritorious achievement in Vietnam from February 1964 to July 1964.
Another View of "Dammit"
RUMOR HAS IT THAT DOC STANTON ALSO GRANTED
"DAMMIT' MATERNITY LEAVE FROM AIR CREW POSITIONS
It appears that "Dammit" was an extremely amorous young lady. "Dammit" got to know the medical department's mascot, "Morphine", real well and became a mom while at Da Nang. Warren R. Smith remembers that she let her guard down when she got to Futema, Okinawa and the squadron almost lost her due to two litters in too short a time.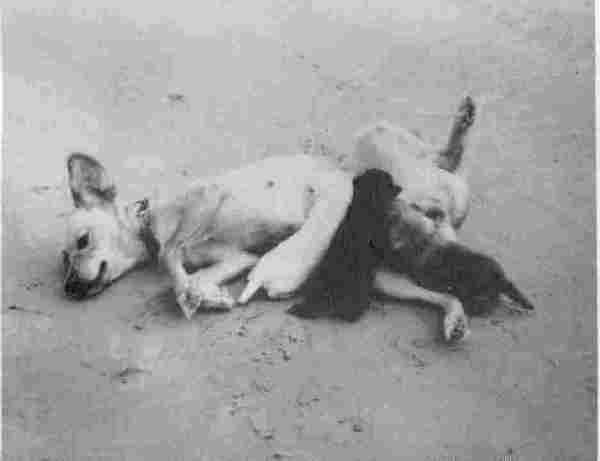 "Dammit", you know better than to serve lunch in the road!
EPILOGUE
"Dammit" is now making muster with her squadron mates who have passed on. She died shortly after James Young left the Marine Corps. All agree that "Dammit" was a good Marine even if she did not always make muster on time. She had one very good trait however, she was always present for "chow call." Your Webmaster considered adding "Dammit" to the squadron roster but my wife convinced me that would not be in good taste.
Epilogue II
If the saying "You're not dead until they quit talking about you" is true then "Dammit" is alive and well in Texas! Your webmaster has received emails about "Dammit's" dog tag being found and carried for the last 46 years. Walt Corder was with on a patrol through Quang Ngai village when he found it. He has carried it and wondered what ever happened to that dog. He does not have to wonder any more because his friend found out what happened by looking on the net until he wandered onto this page and sent me the following email
Dave,
A marine friend of mine in my VA mental health group has a mascot dog tag he found in Vietnam in 1964. It reads:
Dammit Pvt.
USMC
HMM 364
MASCOT
He asked me today if I would try to find out something about it or if there might be someone out there who would like to have it.
Thanks
David Capshaw
I responded in the affermative and provided Dave with additional pictures of Dammit and received the following email.
Dave,
Walter Corder has the tag. We go to PTSD group at the Bonham,Texas VAMC. Walter's phone number is xxx-xxx-xxxx. I feel like I hit gold Dave. Walter's gonna love this after 45 years of wondering about that tag. A few minutes ago I found a story about Dammit. I can't remember exactly how, but I know now you can type in "lady from 29 palms", then scroll down to "LADY 29" and there she is. Dave, I live in Calera,Okla. Where are you my friend? I was in the Army in Vietnam in 1967-68.
Dave
A few days later I received the Dog Tag
Your webMasterSgt also received "Dammit's" photo hanging on the wall of the PTSD group at the Bonham,Texas VAMC via email, but screwed up and somehow managed to loose them! The dog tag will be sent back to it's rightful owner along with a printed copy of this page because Walter does not have a computer.
Information provided by:
HMM-364 Cruise Book '63 - '64
Joseph E. "Joe" Barlow, GySgt. USMC(Ret)
Warren R. Smith, former Cpl. USMC
Walter Corder USMC
David Capshaw US Army