We Bid Our "Dogs" Farewell
(Click on photo for larger image)
Prior to departing Vietnam we were advised that all of our aircraft were to be turned over to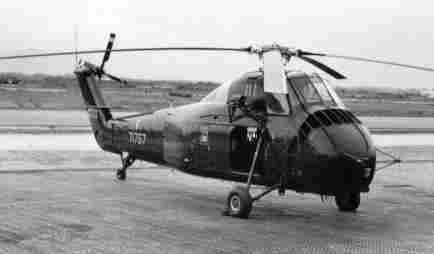 the South Vietnamese Air Force. They already had a few UH-34s which had assisted us on some missions such as Do Xa. In fact a few of them were stationed at Da Nang in the vicinity of our flight line. The were kept spotless and were waxed to a high gloss quite often but it was absolutely apparent that they were not "working dogs".
Prior to actually painting and turning the planes over to them we had to turn in our tool boxes for inventory and most of the tools were kept. It was apparently written in the agreement they would get tools and a compliment of spare parts along with the planes. It was a challenge to keep the planes flying the last few weeks with a crescent wrench, safety wire pliers, and a couple screwdrivers. We had to turn to our Army chopper mechanics and the U.S. Air Force for help when we got to tougher problems.
The sad thing was that their mechanics had very little knowledge of how to use the tools we gave them to maintain the various systems of the aircraft. The line I got when asked what they were going to do when we left was, "We fine some good Mechanic somewhere". I am sure the American Technical Representatives played a big role in being this person.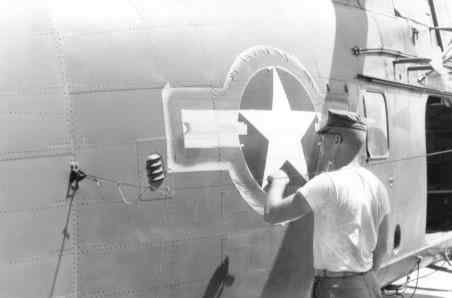 Here Pfc. Earl E. Lowery is changing the US insignia to a South Vietnamese insignia after the "Marines" had been painted out. With these black and white pictures, some questions may arise due to the similarity between our insignia and theirs. The bars on either side of the South Vietnam insignia were a yellow stripe top and bottom with a red stripe in the center.
Submitted by:
Warren R. Smith, former Cpl. USMC