Warren R. Smith's Go-Cart
Last April I had the pleasure of attending my the 50th anniversary of the Purdue Grand Prix in Lafayette, Indiana. I started Purdue in the Spring of 1965 after discharge from the USMC and fell in with some friends from high school that were soon to graduate. I didn't have much in common with those of my freshman class. Purdue had a event to stimulate the values of engineering, which was basically a 60 mile go-cart race. There were a group of us "townies" not associated with a housing unit or fraternities that decided to enter a cart as independents. I had gone to some fraternity rushes and told the guys that I did not want to go through a pledge program as the best in the Marine Corps had already screwed with my mind and body, I wanted my own room, and did not want to hear any flack about bringing women to my room where I intended to have cold beer available always. Needless to say, I was never called back to be a pledge.

With a used go-cart and a lot of enthusiasm we were ready to go. I was the crew chief and concentrated my efforts on making a machine so reliable that it would not come apart during the 60 miles. I had 4 years of experience with a vibrating monster that wanted to shake it self loose. We ran a little chain saw engine that turned up to 19,000 rpm and geared 5-1 would do 105 mph. We won that race in 1966 much to the displeasure of all the organized units and felt pretty good with ourselves for the effort. The students in charge of last year's anniversary went looking for old crews and we had a gift for them. Since 1966, I had stored this famous cart in my carriage house located in Michigan City, Indiana. From under a pile of old lumber and garden tools emerged this champion of the past. While I was rounding up the cart, other members were scouring the country for the rest of the team. We found the team members were all still alive and ready to race again. We each pooled our money, bought new tires, and had the carbureator rebuilt with a new diaphragm. Once that was done we had a cart that sounded and felt like it did 41 years prior. I can't tell you how good it felt pushing my foot to the pedal, feeling that old engine take hold and be pushed down a vacant Indiana country road much faster than I should have pushed. I was chasing some youth that had gotten ahead of me and I was enjoying the chase.

We cleaned the old cart up for display on campus the day before the race, they were having a race from the past prior to the scheduled event in which we would be featured. Most of the students looked at us and the cart and could not imaging us or the cart ever racing. I realized later that the cart was twice as old as most of the students looking at us and we were older than their parents. We had 3 different TV interviews and a newspaper article featuring what we were doing.

On race day they had limited our race to 15 laps that we thought was a little short for the expense and time we had put into this endeavor, but soon realized the wisdom of this call. I had forgotten how much force was always trying to pull you from the cockpit as you slide through he turns and how really fast these little machines took you around the track. My guts were really starting to knot up from the stress by the time they waved us off the track giving room for the young guys and gals to race. A young lady won the main event this year.

They will have another Alumni Race in 5 years at which time I will be 70. I intend to do a lot of sit ups before this race in preparation. The premiere thought you have as you traverse the course is, "Please God do not allow me to embarrass myself."

Note from the pictures that I wore my Navy flight gloves I had recently found and wrote about. I don't think anyone but myself knew what they were or the history we had together.

Warren R. Smith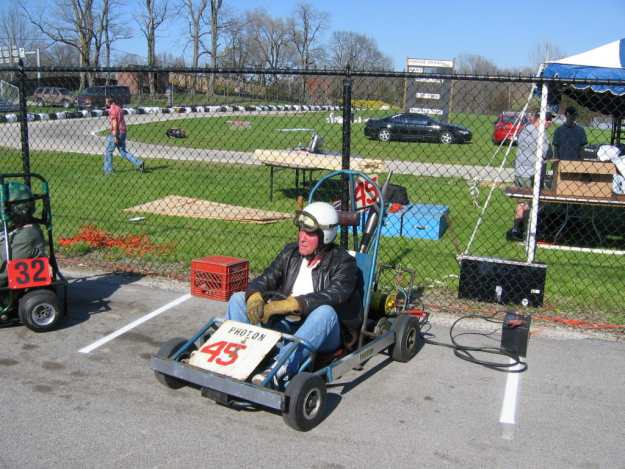 Should have named the cart "The Phoenix" from the mythical bird that rose from the ashes.
On second thought, maybe it should be the driver who is called "The Phoenix!"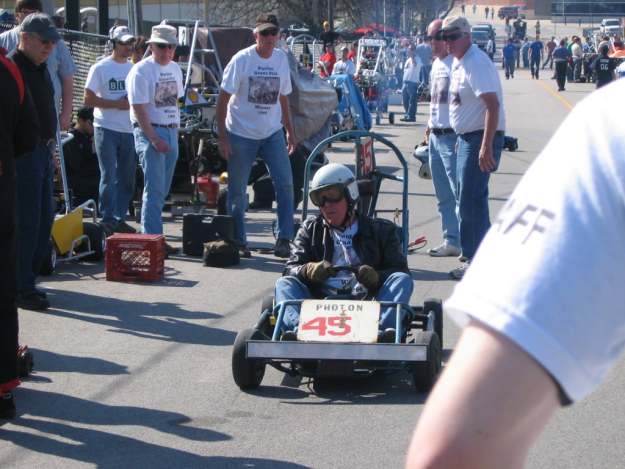 Warren "The Phoenix" Smith and his over-the-hill crew.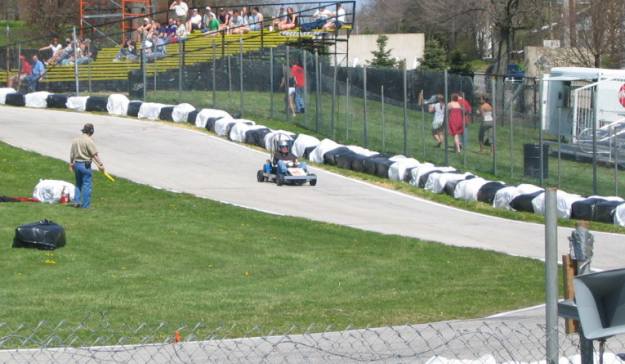 He is all by himself, is it first or last, he didn't tell us where he finished.